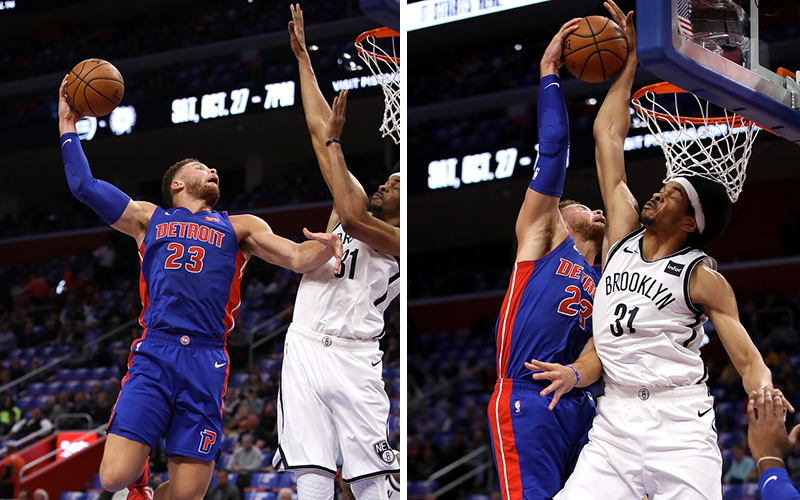 Blake Griffin was once one of the most exciting, explosive players to ever come through the NBA. When he and Chris Paul turned the perpetually "meh at best" Los Angeles Clippers into the must-see Lob City … well, let's just say the duo were frequent features on Sports Center's Top 10.
Seriously, just watch. Even if you don't read another word, your click will be worth it if you watch this.
Still reading? Well if you want your perception of Blake Griffin to remain unchanged, I'd recommend stopping here, because what comes next isn't pretty.
On Wednesday, October 17th, Blake Griffin learned he ain't quite the young buck he used to be. In the first quarter of a game against the Brooklyn Nets, Blake Griffin put a move on his defender, spun into the paint, and leaped up for one of his signature posterizing dunks.
Only this time, it didn't go so hot.
JARRETT ALLEN GETS BLAKE GRIFFIN AGAIN pic.twitter.com/f5215jiQCf

— Anthony Puccio (@APOOCH) October 17, 2018
Here's another angle (sorry Blake).
JARRETT ALLEN DENIES BLAKE GRIFFIN AT THE RIM (via @NBA) pic.twitter.com/FQ1oFKniyK

— SLAM (@SLAMonline) October 17, 2018
Just absolutely cold-blooded.
That's Jarrett Allen, the Nets 20-year-old Center who stands at 6'11" with an ungodly 7'6″ wingspan. A wingspan he put to good use by viciously making sure Blake Griffin understands that he owns the paint now.
And this wasn't even the first time Allen has made Blake (I'm guessing) question what his 29-year-old, injury ridden body is capable of. During a pre-season match up between the two teams, Allen shut Griffin down in the paint with this beast of a block.
Jarrett Allen erases Blake Griffin from Planet Earth for the second time in 9 days. pic.twitter.com/QprpiVP4Wo

— Pwob George (@WorldWideWob) October 17, 2018
So Blake, maybe it's time you start to step away from basketball and go pursue that stand-up comedy career you've been eyeing for some time. That's right, Griffin has said that he considers stand-up as a viable second career for him once basketball is over. And truth be told, he's not bad.
He's hosted multiple stand-up shows, does sets at clubs, and even went up against notable roast master Jeff Ross on Comedy Central's Roast Battle. So maybe he really can go off and make a living telling jokes when the time comes.
And based off that set of rejections, that time might be coming sooner rather than later.
Be the first to receive breaking news alerts and more stories like this by subscribing to our mailing list.