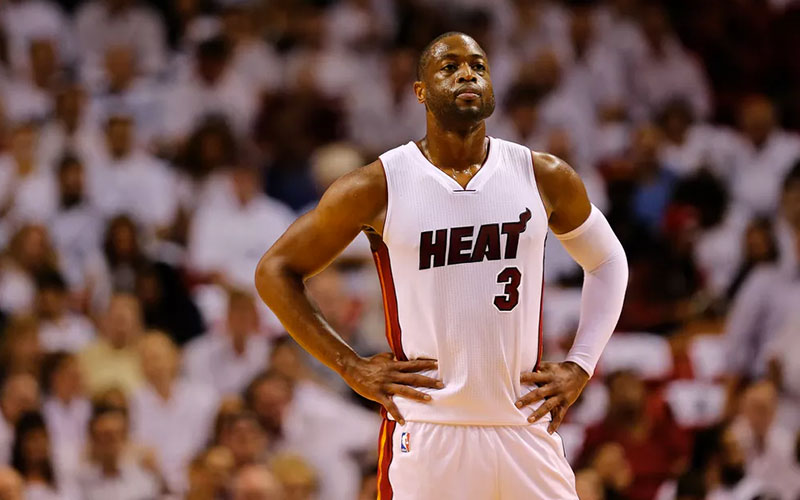 Dwyane Wade says the upcoming 2019 NBA Season will be his last … because he is retiring after 16 seasons in the league.
Last Sunday (Sep. 16), Dwyane Wade hit NBA fans right in the feels by announcing his retirement. He also announced that he has decided to return to the team that kicked off his NBA career: The Miami Heat.
Wade was drafted by the Miami Heat, and he played 13 straight seasons with them before taking his talents to his hometown of Chicago and then Cleveland to play one more time with his former Heat teammate LeBron James. In an emotional announcement, the 12-time NBA All-Star declared that the upcoming 2018-2019 season will be his last before retiring.
"This is the hardest decision that I've ever had to make, but it's one of the best decisions that I've had to make as well," Wade said in a nearly 10-minute video posted on his YouTube channel. "To be in this position I'm in, to have the career that I've had, I can't do nothing but smile on it."
In the video, titled "One Last Dance…", Wade—clad in a black t-shirt that read #SPOTLIGHTON and standing in front of a dark background—said he used the summer to reflect on his future. He opened the video by saying: "When you first come in the league the vets tell you, 'Young fella, it's gonna go by fast.' You think at that time, 'Nah, I'm just getting started.' As I stand here today, September 16th at roughly 1:15 pm, I'm here to tell you, it goes by fast."
Wade fought back tears as he revealed the death of his agent, Hank Thomas, made him feel like he lost a part of himself. And even though being traded back to Miami helped fill the void a little, he's ready to see what else his career has in store for him off the court.
"I always did things my way," Wade said. "Whether they've been good or they've been bad, I got here because I've done things the way that I feel is right for me and right for my family. He added, "I feel it's right to ask you guys to join me for one last dance, one last season. This is it. I've given this game everything that I have, and I'm happy about that, and I'm going to give it for one last season."
Wade—who already leads the Miami Heat in games (876), minutes played (31,027), points (20,473) assists (5,009), and steals (1,433)—will enter his final season with career averages of 22.5 points, 5.5 assists, 4.7 rebounds and 1.6 steals per game. He's also one of just nine players in league history with more than 20,000 total points, 5,000 assists, 4,000 rebounds, and 1,500 steals, according to Basketball-Reference.
The Mami Heat announced last Tuesday (Sep. 18) that Wade had signed his contract to make his decision to retire official. According to an NBA source, he will play on a one-year $2.4 million veteran's minimum deal.
????

OFFICIAL: The Miami HEAT have re-signed guard @DwyaneWade.
More info – https://t.co/lwAO4PczER pic.twitter.com/xrSAMUkxnh

— Miami HEAT (@MiamiHEAT) September 18, 2018
"We are very delighted that Dwyane decided to return," Heat president Pat Riley said in a statement. "I believe that Dwyane can play a big part in us winning, that's what he is all about. I'm glad he's back."
Be the first to receive breaking news alerts and more stories like this by subscribing to our mailing list.