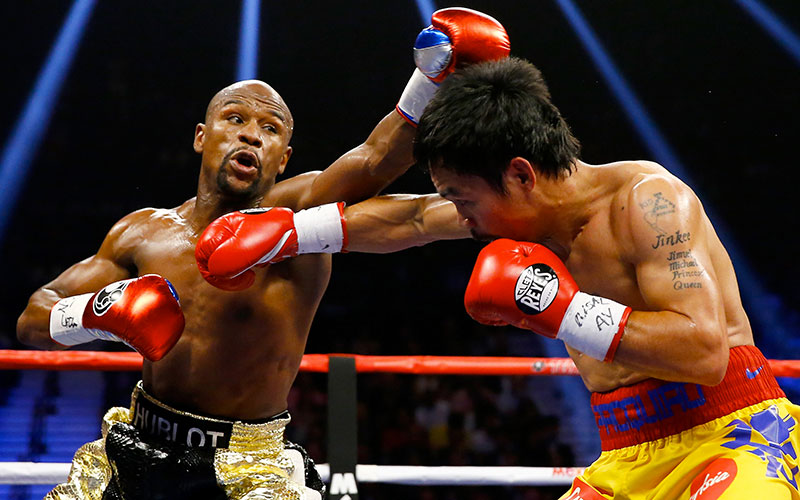 Floyd Mayweather wants a rematch with Manny Pacquiao.
The undefeated boxing champ, whose record is 50-0, says he is coming out of retirement to fight Pacquiao for a nine-figure sum in December.
Mayweather, after running into Pacquiao Saturday (Sep. 15) in Japan  announced the news via Instagram just moments ago: "I'm coming back to fight Manny Pacquiao this year another 9 figure pay day on the way."
https://www.instagram.com/p/BnvdWOphIoe/?hl=en&taken-by=floydmayweather
Mayweather's last "comeback" boxing match was in August 2017 when he beat the crap out of UFC fighter Conor McGregor, winning the 12-round match in 10 rounds with a TKO. Mayweather reportedly brought home $300 million for that fight, which recorded the second highest pay-per-view buy rate in history with 4.6 million purchases.
Mayweather fought Pacquiao in 2015 after going back and forth with him for years. That fight lasted for 12 rounds, with Mayweather winning by unanimous decision (two judges scored it 116 to 112 and the third scored it 118-110).
Even though the Mayweather vs. Pacquiao fight was considered to be one of the most anticipated sporting events in history, it was largely considered a letdown by audiences and critics alike.
Mayweather agreed, saying in an interview with Jimmy Kimmel two years later while on a press tour for the McGregor fight that he felt like he owed boxing fans for the disappointing match against Pacquiao.
"I've talked about this before: I feel like I owe the fans since me and Pacquiao didn't give the fans a blockbuster," he said.
Be the first to receive breaking news alerts and more stories like this by subscribing to our mailing list.