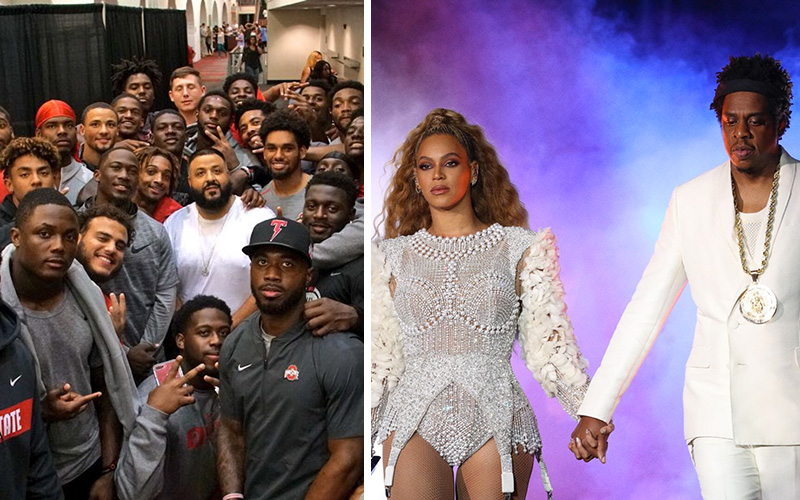 Ohio State's football coach surprised players with free tickets to Beyoncé and Jay-Z's concert in Columbus Thursday night (Aug. 16).
Hip Hop's royal couple brought their "On the Run II" to Ohio Stadium on the campus of Ohio State in Columbus, OH, and after Thursday's practice, the Buckeyes' acting head coach Ryan Day told his team that they would be attending the show later that night.
A video posted on the team's social media pages shows the Buckeyes' football team when they heard the good news. Day tells players that if their kicker makes a field goal, there will be "no meetings tonight." When senior PK Sean Nuernberger makes the field goal, the team erupts in cheers. But not having meetings that night wasn't the only gift the players would be receiving that night.
#BuckeyeNation it's time to get in formation ?

The Bucks are in the building.

We're going to see The Carters @S_C_ & @Beyonce tonight #OTRII ??#GoBucks pic.twitter.com/HMODHGimuO

— Ohio State Football (@OhioStateFB) August 16, 2018
"You guys are going to the concert tonight!" Day told the team as they erupted into even bigger cheers. "JAY-Z and Beyoncé!" Freshman Dominic DiMaccio, also a placekicker for the Buckeyes, then did his best JAY-Z and basically nailed it, tbh.
"Ay HOV's in the building," DiMaccio said to his teammates as they laughed. "So tonight we gone have some fun baby. Y'all gone see my wife, ya'll gone see me perform, ya'll gone see me sing some throwback music. Y'all gone enjoy yourself. Aye, don't ask my girl if she want cheddar, she want cheese."
According to ESPN, Live Nation provided Ohio State with 500 free tickets to the concert. The football team's tickets were purchased through the NCAA student opportunity fund, Ohio State's associate vice president for university communications Chris Davey said.
With Beyoncé, JAY-Z and DJ Khaled literally performing on their turf, it's only right the Buckeyes get free tickets to the show.
Davey said that those tickets were purchased at general public price and that student-athlete opportunities like these are paid for through a "special discretionary fund that comes from donors to university athletics and sometimes the NCAA student opportunity fund."

State tax dollars and tuition dollars are not used, Davey said.

Ohio State's women's volleyball team will join the football team. Last year, both the men's and women's basketball teams were sent to the Kendrick Lamar concert at the The Schottenstein Center.

NCAA Bylaw 16.7 allows an institution to provide reasonable entertainment to student-athletes while they are in their playing season.

"Since football's playing season begins with preseason camp, we meet the requirements to provide such entertainment either through budget or using the NCAA Student Assistance Fund," Davey said.
The team even got to hang out backstage with DJ Khaled, who shouted them out during his show-opening set.
O-H ? HOV ? ?? ? ? = ?

Thanks to @S_C_ @Beyonce & @djkhaled for a phenomenal show in The Shoe last night ??#OTRII #GoBucks pic.twitter.com/YZTdEZq943

— Ohio State Football (@OhioStateFB) August 17, 2018
Ryan Day was named acting head coach on August 1st after the school announced that head coach Urban Meyer was being placed on paid administrative leave for his alleged involvement in former Buckeyes coach Zach Smith's 2015 domestic abuse incidents.
Smith's ex-wife Courtney Smith said Meyer, along with his wife Shelley and many other people involved in the Ohio State football program knew about the incidents when they occurred and did not act on them. For his part, Meyer said he had no prior knowledge of the domestic abuse incidents, which were confirmed by several police reports obtained by Cleveland.com.
Ohio State president Michael Drake said the school's investigation into the claims against Meyer would be completed this Sunday, with a decision on whether or not he will get to keep his job to follow shortly afterward.
Today's update related to the @OhioState football program: https://t.co/V514pVp0LC pic.twitter.com/rImzqahTwy

— Michael V. Drake (@OSUPrezDrake) August 17, 2018
Be the first to receive breaking news alerts and more stories like this by subscribing to our mailing list.