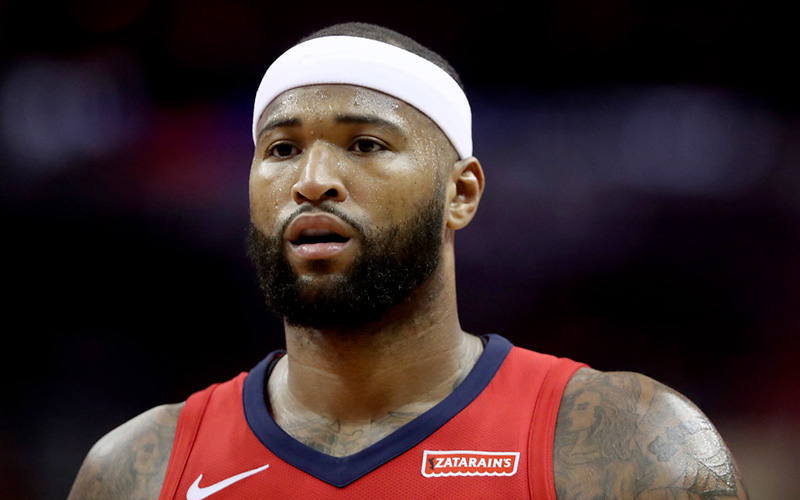 DeMarcus Cousins must really want a ring because, in a surprise move, the free agent center has taken a massive pay cut to sign with the Golden State Warriors.
According to ESPN, Cousin's new contract with the Warriors is only for a year and is worth $5.3 million—which is much less than the nearly $18 million he got in the 2017-18 season for playing with the New Orleans Pelicans. So it looks like Cousins, who has battled injury issues and has played in less than 70 games combined over the past two seasons, values winning a championship over making money. After making more than
ESPN reports:
For the Warriors, already with a staggering lineup of All-NBA talent, the addition of Cousins gives him even more time to comfortably recover from his injury prior to returning to the court next season.

Sources told ESPN's Chris Haynes that Cousins had narrowed his choices down to Golden State and Boston.
News of Cousins joining the Warriors comes barely 24 hours after news broke that LeBron James had signed with the Lakers for a four-year $154 million contract.
Steph Curry seems pretty excited, as does Andre Iguodala, who both welcomed Cousins to the team with open arms.
The 3rd splash Brother ???????. Let's go @boogiecousins

— Stephen Curry (@StephenCurry30) July 3, 2018
Big fella!!!!

— Danielson… (@andre) July 3, 2018
LeBron may be regretting joining the Lakers now though, because not only does his team have to play the Warriors four times per season, but they could also end up meeting in the Western Conference Finals. If he doesn't round up enough key players to take on the Warriors, he might miss out on playing in the Finals for the first time since 2010.
Cousins is expected to start back playing by December/January, which gives him more than enough time to prepare for the 2019 NBA Playoffs
Be the first to receive breaking news alerts and more stories like this by subscribing to our mailing list.