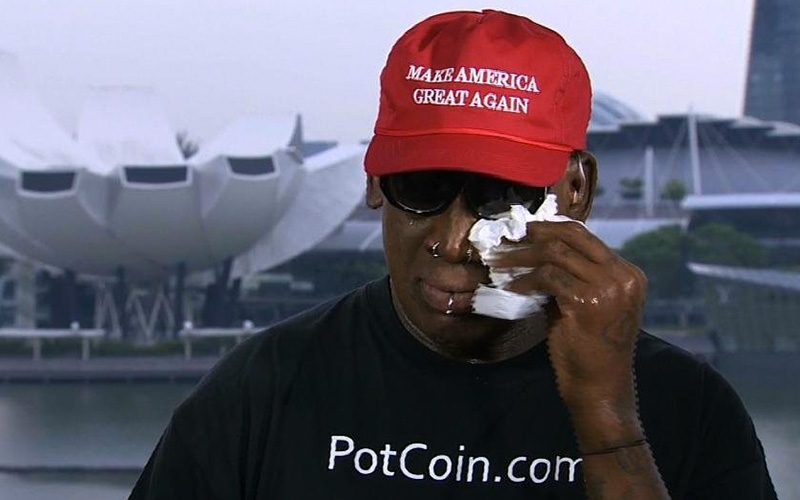 Though President Donald Trump's meeting with North Korean dictator Kim Jong Un is certainly a historic moment on its own, Dennis Rodman somehow managed to steal the spotlight away from the Trump-Kim meeting during his appearance on CNN Monday night (Jun. 11).
The NBA legend and longtime friend of Kim Jong Un, who has paid several visits to North Korea over the years, was on hand in Singapore to support Donny and Kim's face-to-face meeting, and he turned into a big ole ball of emotions during a bizarre live interview with CNN's Chris Cuomo.
Wearing a red "Make America Great Again" hat, sunglasses, a t-shirt promoting a marijuana-related cryptocurrency company called Pot Coin (who sponsored his trip to Singapore), and his trademark face rings, of course, Dennis broke down in tears while discussing all it took to get to this moment.
"Today is a great day," former NBA star Dennis Rodman says in an emotional interview in which he describes his relationship with North Korean leader Kim Jong Un https://t.co/atvQwe7jo0 pic.twitter.com/dEgQf3kBtE

— CNN (@CNN) June 12, 2018
The crocodile tears began to flow when Rodman recalled America's reaction to his first visit to North Korea in 2013:
"When I went back home, I got so many death threats. When I came home, I couldn't even go home. I had to hide out for 30 days. But I kept my head up high, brother. I knew things were going to change."
He slammed former President Barack Obama for not taking his BFF Kim Jong Un seriously when he was in office.
Rodman said that Kim had told him "certain" things to relay to Obama about potential negotiations between the U.S. and North Korea, but Obama "didn't even give me the time of day—he just brushed me off, but that didn't deter me."
Rodman also offered Trump some advice about how to gain the North Korean leader's trust:
"President Trump should understand the fact that the reason the Marshal of North Korea [Kim Jong Un] respects Dennis Rodman is the fact that he trusts me, and I gave him something for his birthday—and I thought I couldn't pull this off—and I said the day before his birthday, I'm gonna give you a present."
That present Rodman promised Kim Jong Un was to bring a professional basketball team to North Korea "even though I knew I couldn't do it," he said, adding that he quickly realized he needed to come through with his promise, otherwise there would be a "problem."
After helping train North Korean basketball players and arranging to bring former NBA players to the country, Rodman said Kim told him, "Dennis, you know, this is the first time someone ever kept their word to me in this country."
Rodman said the moment was emotional and he encouraged Trump to show his "heart" to Kim, who Rodman described as a "big kid" who just wants to have "fun."
Dennis Rodman's advice to US President Trump: Go into the meeting with Kim Jong Un with your "heart on the table," and focus on the future https://t.co/0A3J2NkWqy pic.twitter.com/HFFL5w0E17

— CNN (@CNN) June 12, 2018
Dennis added, "If Trump can pull this off, more power to him." The basketball star claimed that Trump reached out to him prior to the summit through a secretary to tell him how "very proud" of him he was. "We don't need a miracle, but we need the doors to be open so we can start fresh," Rodman said of the historic meeting between Trump and Kim Jong Un.
Former NBA star @dennisrodman, one of the few known to have met both President Trump and Kim Jong Un, says the White House called today to say thanks and that the President is "so proud of you" https://t.co/oaMBT2GQ3n pic.twitter.com/Vvijpah5yP

— Cuomo Prime Time (@CuomoPrimeTime) June 12, 2018
"I just wanna bring sports to North Korea," Rodman said. "That's it, sports. … I'm just so happy to be here, man," he added, calling Monday, June 11th "the world's day."
"Donald Trump should take a lot of credit for this. He went out the box and made this happen," Rodman said.
Wach Dennis Rodman's full 16-minute interview with CNN here:
Be the first to receive breaking news alerts and more stories like this by subscribing to our mailing list.