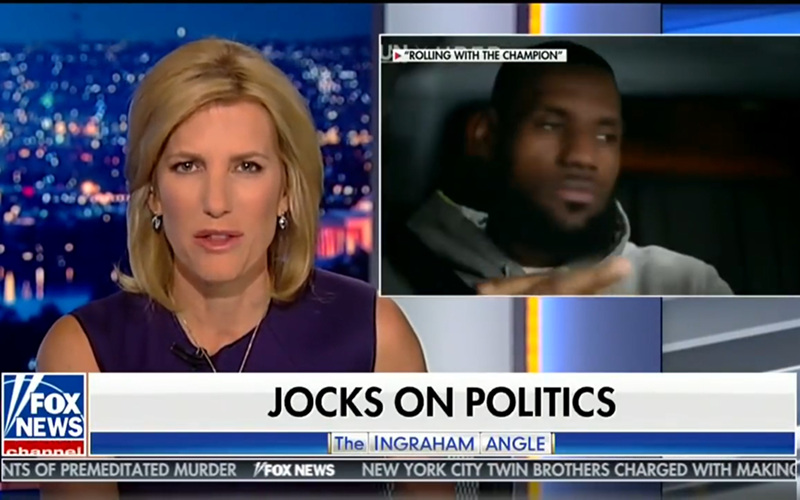 Conservative Fox News host Laura Ingraham is rightfully being dragged on Twitter after telling LeBron James and Kevin Durant to "shut up and dribble" after they criticized Donald Trump.
We've come to expect dog whistles and subtle racist rhetoric from Fox News, but Ingraham's intentions were crystal clear on the Thursday (Feb. 15) broadcast of The Ingraham Angle.
The host suggested James and Durant should "shut up" about politics because all they do is "bounce a ball." She went on to describe their Trump comments as "barely intelligible" and "ungrammatical" and "ignorant."
Laura Ingraham says #LeBronJames should "shut up and dribble" and leave political comments to people who didn't leave high school a year early. pic.twitter.com/vwInOpZJZq

— Thomas Bishop (@bishopk0s) February 16, 2018
"Must they run their mouths like that? Unfortunately, a lot of kids—and some adults—take these ignorant comments seriously.

"Look, there might be a cautionary lesson in LeBron for kids: This is what happens when you attempt to leave high school a year early to join the NBA. And it's always unwise to seek political advice from someone who gets paid a hundred million dollars a year to bounce a ball.

"Oh, and LeBron and Kevin: You're great players, but no one voted for you. Millions elected Trump to be their coach. So, keep the political commentary to yourself or, as someone once said, 'shut up and dribble.'"
Ingraham and Fox News' latest attempt to silence black athletes on political matters is a response to comments James and Durant made on the web series, Rolling with the Champion.
James said about Trump:
"The No. 1 job in America, the appointed person is someone who doesn't understand the people. And really don't give a f*ck about the people."
James—whose home was vandalized with "n*gger" spray painted on his gate last year—went on to say that fame and money doesn't shield him from racism and racially-charged remarks such as Ingraham's.
"No matter how far—money or access or how you become in life as an African-American man—they will always try to figure out a way to let you know that you're still beneath them."
For his part, Durant opined that "our team, as a country, is not ran by a great coach." And the show's host, Cari Champion, added: "It's also scary because I shouldn't be numb to your racist comments. I shouldn't be numb to your behavior."
The clip of Laura Ingraham slamming LeBron James and Kevin Durant for simply speaking went viral causing her to become a top 10 trending topic on Twitter for most of the day. And many weren't here for her racist dog whistle/megaphone, including Dwyane Wade.
They use to try and hide it.. now the president has given everyone the courage to live their truths. https://t.co/OwLSMHIG0m

— DWade (@DwyaneWade) February 16, 2018
Someone tell this bitch to meet me outside… Im so not in the mood for playing nice or polite this week https://t.co/LUpm0k3ZvV

— Ellen Pompeo (@EllenPompeo) February 16, 2018
She says LeBron should not comment on politics because no one voted for him.

NO ONE VOTED FOR LAURA INGRAHAM EITHER

Also, does anyone doubt LeBron could be elected Governor of Ohio?

— Judd Legum (@JuddLegum) February 16, 2018
https://twitter.com/jbillinson/status/964353178979438592
"Must they run their mouths like that?" @IngrahamAngle asked in her segment centered around calling @KingJames an uppity idiot. Yes, to answer her question—and also, thanks for making his point about being subject to racism despite being wealthy. https://t.co/QLJ5lVIQH7

— Jamil Smith (@JamilSmith) February 16, 2018
Thought, Laura Ingraham's LeBron hate stems from her website spreading that picture of Cavaliers victory parade and labeling it "5 miles of Trump supporters" waiting for his rally. She is lashing out to regain control. pic.twitter.com/9TxBVVMiCS

— andrew kaczynski (@KFILE) February 16, 2018
Laura Ingraham, you are so ignorant. Thanks for proving Lebron's point.

— Trevor Booker (@35_Fitz) February 16, 2018
Laura Ingraham hates @KingJames because he represents excellence in everything he does. He's enormously talented, intelligent, humble and uses his unmatched influence to inspire future generations to be great. And she despises that he's all of those things, and Black. Simple.

— Francis Maxwell (@francismmaxwell) February 16, 2018
That video of Laura Ingraham being racist as hell toward Lebron James is a disgrace and her smug confidence of knowing she'll get away with it is exactly what racism looks like.

— Rebecca Shuri She Ready Carroll (@rebel19) February 16, 2018
Notice how Laura Ingraham called out Lebron but didn't call out Gregg Popovich or Steve Kerr.

— Antonio (@BruhManAnt) February 16, 2018
Laura Ingraham is that slave owner's wife who overheard the slaves talking about their plight and told them to "shut up and pick."

— Mr. Christopher (@iamalmostlegend) February 16, 2018
Remember how Laura Ingraham is, like, actually a Nazi?

Yea, I'm gonna side with Bron on this one. pic.twitter.com/6YXB1Rjkca

— Cameron Tabatabaie (@CTabatabaie) February 16, 2018
Two-time Super Bowl champion Chris Long provided several examples of when Fox News invited celebrities to provide political commentary. But of course, they were white and conservative.
I'll be replying to my own tweet with a collage of your network allowing political commentary from a few folks. https://t.co/WUGl1WQSLE

— Chris Long (@JOEL9ONE) February 16, 2018
ANACONDA GUY pic.twitter.com/FwutOPeBPH

— Chris Long (@JOEL9ONE) February 16, 2018
MUSICIAN pic.twitter.com/vb2d9UIFRC

— Chris Long (@JOEL9ONE) February 16, 2018
BASKETBALL. COACH. pic.twitter.com/IA7aRH2GR5

— Chris Long (@JOEL9ONE) February 16, 2018
CHUCK. NORRIS. pic.twitter.com/DVVOnqYUil

— Chris Long (@JOEL9ONE) February 16, 2018
TED NUGENT #FOXNEWSSPECIALIST pic.twitter.com/xrPBiUDqFo

— Chris Long (@JOEL9ONE) February 16, 2018
I'm sure the network she works for has interviewed a bunch of athletes, just couldn't find the screenshots quickly. The point is, what's the prerequisite for who can talk politics? So, Fox News folks who agree with Laura… you okay with these segments?

— Chris Long (@JOEL9ONE) February 16, 2018
And if you reply "stick to sports," you should probably tune of out Fox News because they've got karate guys talking climate change on there. (Which I'm cool with… it's his right.) Unless it's just about you needing to feel like you've got control of athletes like Lebron.

— Chris Long (@JOEL9ONE) February 16, 2018
Following the backlash, Laura Ingraham issued a statement claiming there was "no racial intent" in her remarks and that she's used the "shut up and…" against celebs since 2003.
"In 2003, I wrote a New York Times bestseller called 'Shut Up & Sing,' in which I criticized celebrities like the Dixie Chicks & Barbra Streisand who were trashing then-President George W. Bush. I have used a variation of that title for more than 15 years to respond to performers who sound off on politics.

"I've told Robert DeNiro to 'Shut Up & Act,' Jimmy Kimmel to 'Shut Up & Make Us Laugh,' and just this week told the San Antonio Spurs' Gregg Popovich to 'Shut up & Coach.' If pro athletes and entertainers want to freelance as political pundits, then they should not be surprised when they're called out for insulting politicians.

"There was no racial intent in my remarks – false, defamatory charges of racism are a transparent attempt to immunize entertainment and sports elites from scrutiny and criticism.

"Additionally, we stated on my show that these comments came from an ESPN podcast, which was not the case – the content was unaffiliated with ESPN."
Ingraham also intends to address the controversy on tonight's show (Feb. 16), and she doesn't seem to be backing down on her stance.
Tonight…more fall-out from player-turned-pundit LeBron @KingJames' profanity-laced comments abt @realDonaldTrump. 10pET @FoxNews

— Laura Ingraham (@IngrahamAngle) February 16, 2018
Be the first to receive breaking news alerts and more stories like this by subscribing to our mailing list.