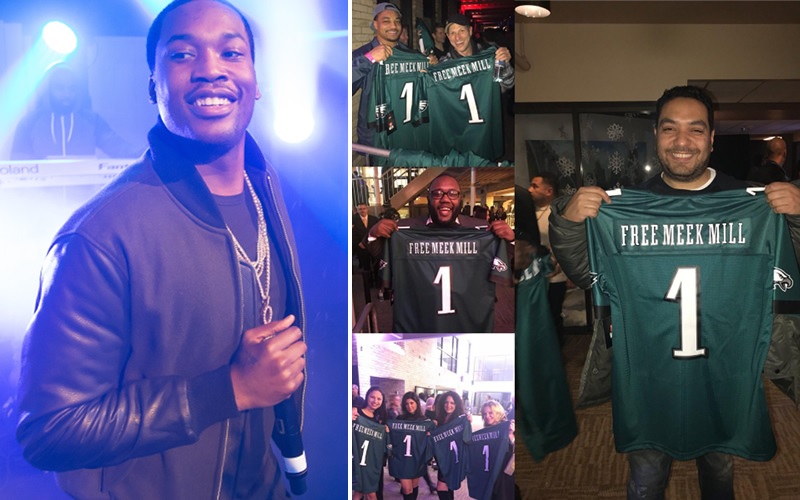 Meek Mill is celebrating the Philadelphia Eagles' historic Super Bowl win along with the rest of his city. The currently locked up rapper has been showing his appreciation for the team and the reinvigorated #FreeMeekMill campaign on social media.
The Eagles took home their first Lombardi Trophy on Sunday (Feb. 4) after defeating the New England Patriots 41 to 33. Though Meek couldn't attend Super Bowl 52 to cheer on his home team, he was there in spirit. The team walked out to Meek's "Dreams and Nightmares" and celebrated with the track following their big win.
"HOLD UP WAIT A MINUTE" pic.twitter.com/BnHhE6hDLC

— Barstool Sports (@barstooltweetss) February 4, 2018
Prior to the championship game, Meek told NBCSports Philadelphia what it meant to have the Eagles use his music to motivate them, which they've done for most of the season.
"It really lifted my spirit to hear the team rally around my songs and that's why I make music—to inspire others and bring people together. But the Eagles have also motivated me with the way they've overcome tough situations and injuries to succeed this year."
Eagles locker room status: ??? pic.twitter.com/iAb7WpeVQM

— Sports Illustrated (@SInow) February 5, 2018
Meek has been in jail since November after being sentenced 2-4 years for probation violations stemming a decade-old conviction when the rapper was just 19. The controversial sentence immediately launched a #FreeMeekMill campaign which was reignited on social media as the Eagles played and won the Super Bowl.
Celebs such as Lebron James, Karl-Anthony Towns, and Kevin Hart, and fans could be seen wearing "Free Meek Mill" jersey's during Sunday's game. Meek shared his appreciation of the support on social media.
https://www.instagram.com/p/BezEiFUgVIK/?taken-by=meekmill
Specialty Philadelphia @Eagles jersey in support of @MeekMill. #FreeMeekMill pic.twitter.com/dDdA9hJj2N

— TIDAL (@TIDAL) February 3, 2018
https://twitter.com/JarrettMWalker/status/960352501139689496
The energy tonight was crazyyyyyy #EaglesNation #FreeMeekMill pic.twitter.com/9RbBBacBwR

— Robyn ? (@so__shana) February 5, 2018
They should just #FreeMeekMill tomorrow to complete this celebration. Congrats Philly.

— Akinola Victor ? (@vhiq21) February 5, 2018
Meek Running out of jail to the Eagle Parade like……. #FreeMeekMill #SuperBowlSunday pic.twitter.com/S6k3PVBnRM

— ? Juice (@JuiceMan3x) February 5, 2018
https://twitter.com/_Coopavelli/status/960351815236759552
Philly we whiliin tonight #FREEMEEKMILL

— Rashawn? (@thatguyshawnn_) February 5, 2018
How @MeekMill walking around the cell block! #FreeMeekMill pic.twitter.com/33UZzHbvxc

— DBlue (@DblueGP) February 5, 2018
They did it for my boy meek man! #FREEMEEKMILL ??

— Jwashington? (@k1ssmyjays___) February 5, 2018
It's SO unfair that Meek has to be in prison for this moment. His song brought the people together. #FreeMeekMill

— peggy (@pegggasus) February 5, 2018
Meek in jail taking inmates commissary #FREEMEEKMILL pic.twitter.com/jacB3sb2aV

— MDM ??? (@Mulabankkss) February 5, 2018
Meek is currently incarcerated at the Chester State Correctional Institution, a medium-security prison just outside of Philly. His lawyers said he would be able to watch the Super Bowl in a community room or from his cell via a TV bought from the commissary. It's unclear which option he chose.
Be the first to receive breaking news alerts and more stories like this by subscribing to our mailing list.