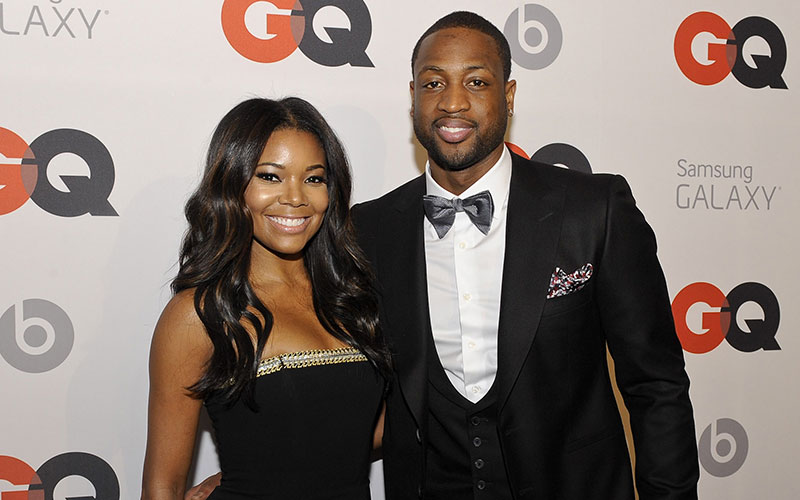 NBA wives are putting all of their baller hubbies' business out on front street right now. Earlier this week, Ayesha Curry talked about how Steph Curry has a foot fetish, and now Gabrielle Union has implied that Dwyane Wade likes to get his ass eaten.
Gabby did an interview with Sway in the Morning earlier today to discuss her new book, We're Going to Need More Wine, in which she talks about being sexually abused when she was younger. The book also delves into her sexual experiences, and she was far from shy while discussing the topic with Sway.
One of the stories Gabrielle talks about in her book is the first time she masturbated at the age of 5 years old when she humped her teddy bear. She also talks about being comfortable in her sexuality and having conversations with her friends about reciprocity when it comes to sexual gratification, and that's when she basically hinted that D. Wade likes to get his salad tossed.
While she didn't outright say Dwyane Wade likes getting his ass eaten, she did say that if her partner licks her butt, she'll return the favor and lick his.
Upon hearing the news that D. Wade probably likes to get his booty licked, Twitter exploded with a bunch of hilarious jokes and reactions.
Gabrielle Union out here eating ass YIKES pic.twitter.com/JX2HPerkZG

— kae (@ImLegalDope) October 20, 2017
Ayesha curry "my man likes to suck my toes"

Gabrielle union "my man likes me to eat his ass"

If Lebron wife says something next I quit..

— Weezy tha ? (@SeantheMartian_) October 20, 2017
Ayesha Curry: "Maybe I revealed too much about my husband"

Gabrielle Union: "Hold my beer"

— Jacob Rude (@JacobRude) October 20, 2017
What Gabrielle Union mean when she text D Wade "that ass is grass" when you get home. pic.twitter.com/kQ6DpwyWcC

— out the way (@_ChickenGeorge) October 20, 2017
Gabrielle Union after a Cavs win pic.twitter.com/jxO9TLcysL

— Prince N'Jobu (@turtlewithapen) October 20, 2017
Gabrielle Union to D. Wade after every win pic.twitter.com/iMDHlIg8SR

— New or lean (@iHeart_youKeish) October 20, 2017
https://twitter.com/PrimeDRuss/status/921467048517033984
Gabrielle Union eating manass is not the topic to start this lovely weekend. Nope.

— Victor Dukes (@VictorDukes23) October 20, 2017
Really didnt need to kick my weekend off with Gabrielle Union confessing to eating manbutt. Y'all could've saved that shit for a Tuesday,man

— Beyonce has an uncle named Larry Beyince. Bruh…. (@DragonflyJonez) October 20, 2017
*Looks at why Gabrielle Union is trending* pic.twitter.com/OGRub2I3Mu

— Enjoy Bob Evans, You Bum (@PBS_Impulse9) October 20, 2017
One could say Gabrielle Union….

….is with the shits. pic.twitter.com/24Kn3wJPok

— Buju Banter?? (@FEELZ_____) October 20, 2017
Gabrielle Union: You like it?

Dwyane Wade: pic.twitter.com/bKEZZuIl00

— Charles J. Moore (@charles270) October 20, 2017
Wait Gabrielle Union eats D Wade's butt and he STILL cheated?! pic.twitter.com/CRN6xOEWbH

— Penny (@DanaeLovesYou) October 20, 2017
https://twitter.com/AdrianNeenan/status/921453285013417985
*sips on water bottle*
Gabrielle Union: Hey that's mine
Me: pic.twitter.com/hGbzKuVs9K

— valenciaga ???? (@tfwy_) October 20, 2017
Gabrielle Union when she see the hairy bootyhole pic.twitter.com/A3FtefdeCT

— Logic Man (@MolaLutherKing) October 20, 2017
Ladies don't let Gabrielle Union have y'all thinking y'all gotta eat man ass.

All that salad tossing didn't keep her from being cheated on

— Craig's VCR (@Craigs_VCR) October 20, 2017
Gabrielle Union is really committed to making her and D Wade's relationship work pic.twitter.com/FWbbbS31Kl

— Tariq Nasheed (@tariqnasheed) October 20, 2017