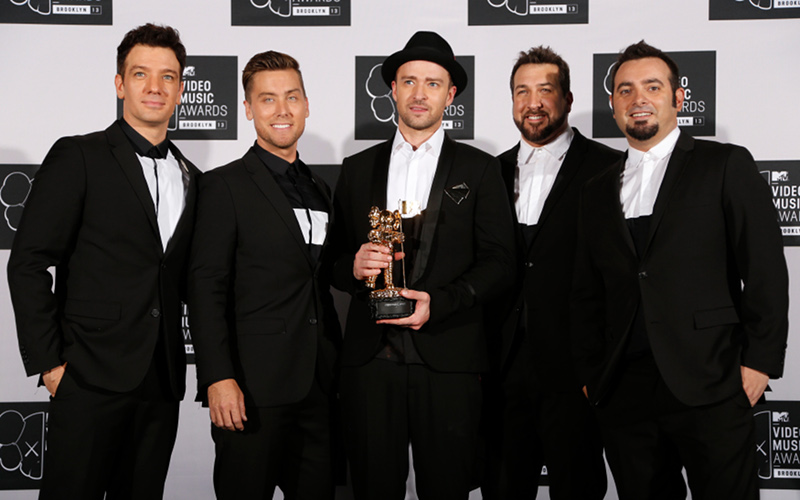 Is Justin Timberlake planning to pull a Beyoncé? The singer is reportedly in serious talks to headline the Super Bowl LII halftime show, which has many wondering if JT will briefly reunite with NSYNC similar to Beyoncé and Destiny's Child in 2013.
TMZ Sports asked Joey Fatone on Wednesday (Oct. 4) if he would be interested in joining the Super Bowl stage with Timberlake and their former bandmates. The singer turned TV host was quick to remind us that NSYNC has already done the Super Bowl Halftime Show (2001), but said that he would be open to the idea.
"It's just one of those things, like we did the MTV Awards [in 2013], if someone asks to do it and if it's right, then we'll do it. If everybody can't do it, then we won't do it. It's pretty simple."
Though it has been speculated for several weeks that Timberlake is "finalizing" the deal, he has yet to sign on the dotted line and the NFL has not yet made a decision on who the 2018 headliner will be. The NFL released a statement regarding the rumors:
"No decisions have been made on the performer(s) and we are not going to speculate on particular artists. Along with Pepsi, we know that we will put on a spectacular show. When it is time to announce her name, we will do it. Or his name. Or their names."
We reported in August that JAY-Z and Timberlake were both in talks to headline the halftime show. However, it has since been reported Jay turned down the offer. Justin is expected to release new music as early as February 2018, which would coincide with Super Bowl LII.
And even if an NSYNC reunion does not happen during TV's most watched event, one is expected to eventually happen in 2018. Lance Bass stated in September that all five members plan to attend the revealing of the group's star on the Hollywood Walk of Fame.
"The next time all five of us will be together at one time is when we get our star," Bass told Hollywood Life. "We haven't figured out the date yet, but we're all planning it now and it'll be quite the celebration."
Be the first to receive breaking news alerts and more stories like this by subscribing to our mailing list.