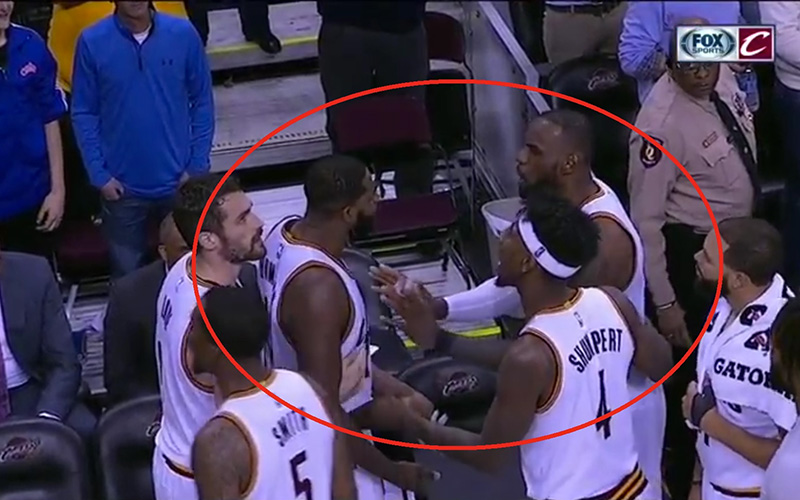 March wasn't a good month for the Cleveland Cavaliers. After a 9-2 record in February, the defending NBA Champs took on a season-high 17 games in March, with 12 of them being on the road. And it didn't go too great. They finished 7-10 and are now a half game behind the Boston Celtics in the East standings.
And it seems like the tough month and less than stellar performance is taking its toll. Sunday night (Apr. 2), in a double overtime victory over the Pacers, league star LeBron James got into a heated argument with teammate Tristan Thompson.
The Cavs got a little heated today ? pic.twitter.com/2VCzfQYiBd

— Bleacher Report (@BleacherReport) April 3, 2017
The feud happened during a timeout after Kevin Love had, in essence, sealed the game with a late three pointer. As the team made their way to the sideline, cameras caught James and Thompson yelling at each over a missed defensive assignment.
Coach Tyronn Lue tried to calm the pair down, but nothing was going to stop them from going at it right there on the sideline.
The beef was seemingly squashed by the end of the night, however, with James outright apologizing for the outburst.
"I've got to do a better job of not showing up my teammates out on the floor. I had the right intentions in my mind, but I had the wrong intentions came out of my mouth. So, I take full responsibility for that as a leader of the team. So, I can be a lot better than that, be able to keep that in, in the locker room and when we're watching film."
Thompson also put Cavs fans at ease when asked about the altercation after the game.
"We're family. Little miscommunication in the huddle. Move forward. Move forward. We're family. Go each other's back always. Move forward. Not going to get into it, just miscommunication, like I said. Move forward. It is what it is. Got the win."
Whether or not this will affect the team's journey to a repeat remains to be seen, but it's clear there are some issues the team needs to address if they want to make it out of the East and take down (presumably) the dangerous Golden State Warriors.
Be the first to receive breaking news alerts and more stories like this by subscribing to our mailing list.