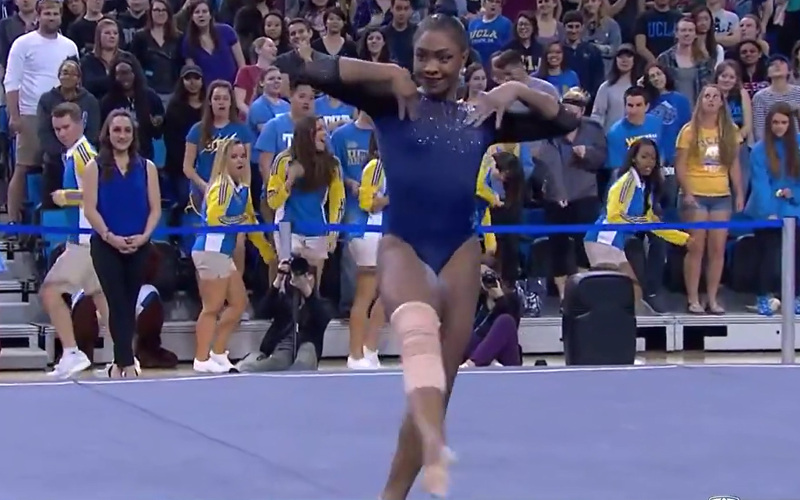 If the BeyHive has taught us anything, it's that the love of Beyonce has no bounds. A college gymnast recently blew away her competition by using Queen Bey music in her floor routine, and the 90-second moment has gone viral.
UCLA senior Hallie Mossett's entire floor routine was accompanied by several Beyoncé hits. Just to make sure you needed preparation for what was about to happen, Mossett got in formation by beginning her routine with "Formation." The empowering tune helped her nail her first tumbling pass.
The college senior then slowed it down a little bit and gave the judges a few seductive tricks and snaps to "Partition."
However, the crowd erupted as Mossett transitioned into "Single Ladies." She replicated the song's iconic choreography and went back to business to stick her final tumbling pass and end the "flawless" routine, as described by one of the commentators.
Mossett helped UCLA win the competition against Arizona by earning a 9.975, with one judge giving her a perfect 10.
UCLA Gymnastics posted Mossett's electrifying performance on its Facebook page back in February, but the clip recently went viral. It has since received over 4 million views and 50,000 shares.
What's even more impressive is that Mossett's near-perfect routine comes after suffering a sternum injury in February 2016. The injury caused her to miss seven meets.
She clearly has worked hard to get back to a level of fierceness that I'm sure would make Beyoncé very proud.
Be the first to receive breaking news alerts and more stories like this by subscribing to our mailing list.