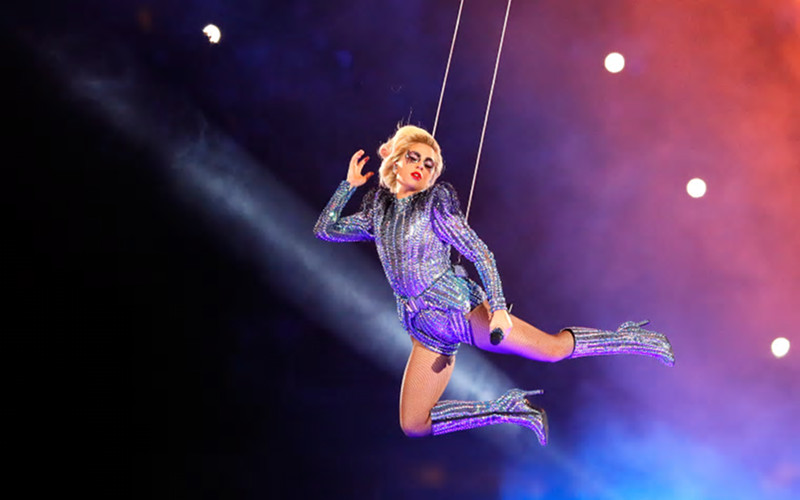 Lady Gaga's Super Bowl Halftime Show performance was a perfect illusion, indeed. In less than 24 hours after the superstar leaped from the NRG Stadium rooftop, the jig is up — the stunt was faked!
Gaga made a grand entrance to begin the Halftime Show at Super Bowl LI in Houston. After singing snippets of "God Bless America" and "This Land is Your Land," she seemingly bungee jumped 265 ft. into the stadium. However, it has been confirmed that this part of the performance was pre-recorded.
While stadium spectators watched the Jumbotron and home viewers were subjected to TV magic, Gaga was already hanging in mid-air.
LADY. GAGA.#SuperBowl #LadyGaga #PepsiHalftime pic.twitter.com/VKwvCIZpu5

— NFL Brasil (@NFLBrasil) February 6, 2017
Official word is that the beginning portion was pre-recorded due to unpredictable weather and environment issues. The 300 Intel drones used to create the sparkling American flag and Pepsi logo also needed to be perfectly choreographed, as well as comply with FAA regulations. Recording the stunt earlier in the week satisfied both requirements.
Though learning the epic stunt wasn't live might deflate your bubble a little, we can confirm that Gaga bungee jumped herself. There was no stunt double involved.
Gaga jumping from the roof of the Super Bowl stadium was literally the best part of her 13-minute performance and is what made it memorable. Unfortunately, it's now spoiled because we know it was an illusion, and not like her song.
Be the first to receive breaking news alerts and more stories like this by subscribing to our mailing list.