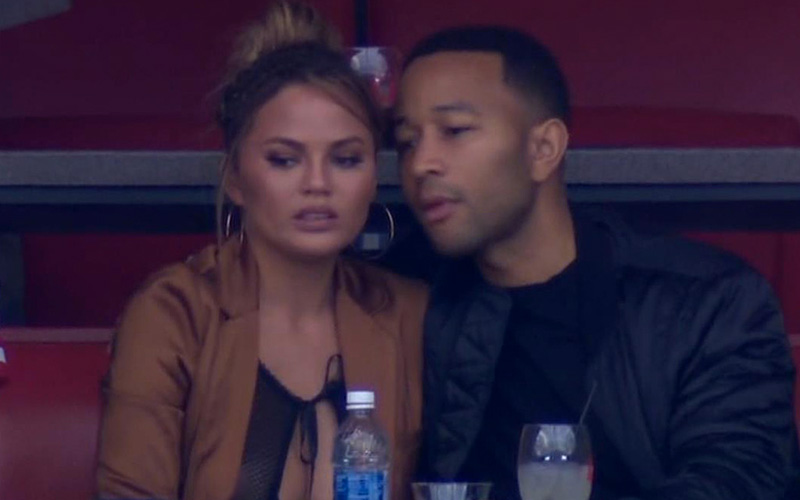 In Sunday's historic Super Bowl matchup between the Patriots and the Falcons, fans watching on TV were treated to a little extra show during the broadcast. In Houston, the same location as Janet Jackson' infamous "wardrobe malfunction" over ten years ago, another nip made an appearance during the big game.
This time, however, it wasn't the halftime performer's. No, viewers did not get a chance to go gaga over Lady Gaga's ladies. Instead, it was Chrissy Teigen who was spotted in the stands of the big game with her hubby John Legend.
The Sports Illustrated swimsuit star was watching from a private box when the camera panned around the stadium, stopping on the famous couple. For most, that was it, just another set of stars at the big game (along with the likes of Mark Wahlberg, Shaw, Simone Biles, T.I., Usher and more). But for one eagle-eyed fan (or overly thirsty) saw something else.
A tweet from @chuckupthedusse showed a video where the user had paused the coverage of the game on Teigen and Legend before proceeding to zoom in on her slightly exposed private bit along with the message, "@chrissyteigen @johnlegend ummmmm the press box ain't save you…"
If you want to see for yourself, have at it.
In typical Teigen fashion, she responded, and it turns out she doesn't really give a damn.
boom goes the dynamite https://t.co/WAExp536Q7

— christine teigen (@chrissyteigen) February 6, 2017
Anyone who's kept track of Teigen online knows this isn't the first time she's exposed herself on camera. During the last American Music Awards, she accidentally exposed her "hooha" while rocking a revealing black dress.
And just like this time, she didn't seem to care too much. She sent out this Instagram post following the incident, apologizing to "anyone harmed mentally or physically by [her] hooha." But one fan wouldn't drop it, saying that she "could've just worn pants."
Teigen wasn't having it, though, tweeting back at the user with this message.
.@aliviaftryle pic.twitter.com/dCVxh74b02

— christine teigen (@chrissyteigen) November 23, 2016
"Well, Alivia, hindsight is 20/20," she said. "Just like your mom when she named you with an 'A' instead of an 'O.'"
So what have we learned? A Sports Illustrated swimsuit model isn't ashamed if people see her body, and it's best to just let her do it unless you want to be humiliated on Twitter.
Be the first to receive breaking news alerts and more stories like this by subscribing to our mailing list.