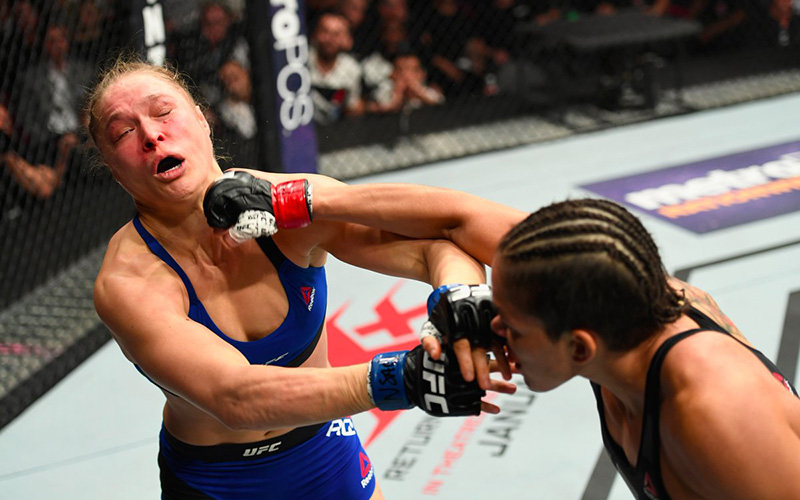 Down goes Frazier!!! Down goes Frazier!!! Down goes Frazier!!!
The world has been waiting over a year to see Ronda Rousey fight after her shocking loss to Holly Holm at UFC 193 in November 2015, and in the weeks and days leading up to her UFC 207 matchup with Amanda Nunes Friday night (Dec. 30), Rousey promised she was going to deliver.
But it looks like fate had other plans, because Ronda Rousey got KNOCKED THE F**K OUT. And it all happened within just the first minute of the fight!
Yes, you read that right. Ronda Rousey not only lost the match, but she did so WITHIN THE FIRST MINUTE. (YIKES!)
Amanda Nunes basically PULVERIZED Ronda Rousey from the start of the fight, and Rousey lost by TKO after a mere 48 seconds. (48 SECONDS, Y'ALL!!! WTF?!?)
To put that in perspective, here's a short list of things that take longer than the Rousey vs. Nunez fight did:
1.) Using the bathroom — whether you're taking a leak or a dump.
2.) Putting on a condom.
3.) Cooking minute rice.
4.) Pumping gas.
5.) Brushing your teeth.
6.) Restarting your smartphone or computer after it crashes.
7.) Taking out the trash.
8.) Washing a dirty pot.
9.) Downloading an album.
10.) Counting to 50.
The good news? Rousey earned a whopping $3 million for the fight … even though she got the life knocked out of her. The bad news? This could possibly be the last fight of her career, because there's no coming back from this.
Watch the ENTIRE less-than-a-minute fight here:
https://twitter.com/videosdegols20/status/815077261116375040
And of course Twitter is letting Ronda Rousey HAVE IT:
To be fair Ronda Rousey won the electoral college vote

— Desus Nice (@desusnice) December 31, 2016
Those who died in 2016:
Carrie Fisher
Debbie Reynolds
Florence Henderson
Muhammad Ali
Gene Wilder
Prince
Ronda Rousey's UFC career#UFC207

— Gentleman's Handbook (@ImThatGentleman) December 31, 2016
https://twitter.com/SophiaHelwani/status/815078697732546561
Media: "Ronda Rousey is the greatest female athlete of all time!"

2 KO's in a row later

Serena: pic.twitter.com/9XQh5eeve2

— AW. (@KingAustinW) December 31, 2016
Ronda Rousey: The last victim of 2016 #RIP pic.twitter.com/Is2R3iVjfH

— NFL Memes (@NFL_Memes) December 31, 2016
https://twitter.com/ArdaOcalTV/status/815073189621563394
Be the first to receive breaking news alerts and more stories like this by subscribing to our mailing list.