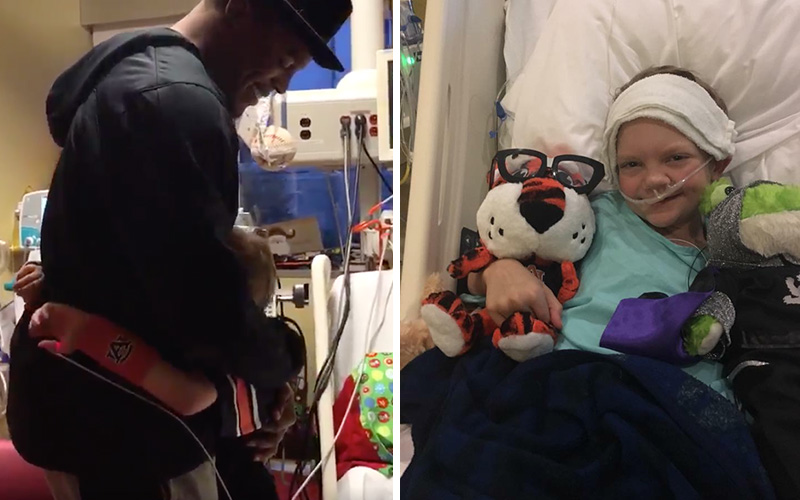 10-year-old Taylor "Austin" Deckard is suffering from advanced pulmonary hypertension and is currently stuck in a hospital, but that didn't stop him from getting the gift of a lifetime.
The longtime Auburn fan had one wish: to meet the former Auburn Heisman winner Cam Newton. And thanks to one dedicated teacher, that dream came true.
Courtney Cooper, Austin's teacher, shared a message on Facebook sharing Austin's story with the hopes that it would spread across social media and eventually reach Newton.
I don't normally post things like this but this special little guy needs our prayers in a big way. This is my student, Austin. Just 3 short weeks ago, Austin's life was changed forever. He was diagnosed with advanced pulmonary hypertension. His prognosis is not good. He will have a procedure done next Wednesday that the doctors fear he may not make it through. Please pray for a miracle.

**The 2nd thing I am asking of you is to SHARE this post to help one of Austin's wishes come true. Just before Thanksgiving, I was headed to an Auburn football game. Austin was in awe of this. He also told me he "wished Cam Newton could come to his birthday party." Austin may not ever make it to an Auburn football game but I know social media is a strong force that can make things happen. Let's use it for something positive and spread this like wildfire and somehow, someway get the word to Cam Newton and give this precious little boy his wish.
Well, it turns out Courtney's efforts paid off, as Cam Newton caught wind of Austin's struggle as well as his wish and decided to pay him a visit on Tuesday (Dec. 27).
"I thought I had an unknown number but dude I've gotten about 100 calls about you," the Carolina Panthers QB remarked during the visit.
The two played a game together, and shared what is perhaps the most touching hug I've seen on the internet.
For Taylor Deckard, a 10yo boy battling a severe heart condition, his Christmas wish was to meet @CameronNewton. Today his wish came true. pic.twitter.com/1MNmpdNLk4

— Auburn Tigers (@AuburnTigers) December 28, 2016
It was a great moment from what I consider a great player. This is the same guy who has fought with refs to ensure that he gets to deliver a touchdown ball to a lucky child in the stands.
As 2016 continues to suck even at the very end, at least we have stories like this to give us hope in the world.
Be the first to receive breaking news alerts and more stories like this by subscribing to our mailing list.