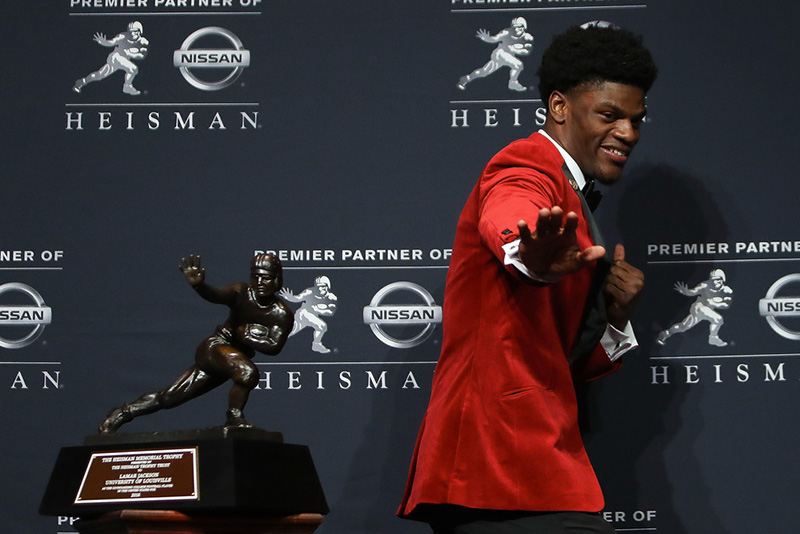 At just 19 years old, Louisville's electric quarterback has become the latest Heisman Trophy winner.
Beating out Clemson's Deshaun Watson, Oklahoma's Baker Mayfield and Dede Westbrook, and Michigan's Jabrill Peppers, Jackson proved what many were saying early in the season while becoming the first Heisman winner from the ACC who wasn't a Florida State quarterback.
And a well-deserved title it is. The true sophomore has been incredible in the 2016 season, completing 58% of his passes for 3,390 yards and 30 touchdowns, while adding 1,538 yards on the ground with 21 touchdowns.
That's right, a 19-year-old with over 5,000 yards and 51 touchdowns, damn straight he deserves the Heisman. And just as he's remained poised and impressive on the field, the young quarterback gave a moving speech where he thanked everyone who helped him reach this momentous occasion, particularly his single mom.
"To my mother…oh my God, I'm just happy to be here. I'm sorry man. I wasn't nervous at first because I didn't know who was going to win this award, but to be up here, it's great.

"It's crazy man…She put so much into me, like I said before, losing my father and my grandma on the same day. It hurt me. I wanted to cry real bad, but my mom was the real soldier, because I was going to be the baby, the female that day. But she told me, 'Lamar do not cry,' and I'll remember that for the rest of my life."
So in honor of the 81st Heisman award winner, here's a brief look back at the exciting quarterback's Heisman award winning season.
Jackson, being a true Sophomore, is not eligible to go to the NFL yet, which means college fans get another year of watching this spectacular player. And you can guarantee NFL scouts will be paying close attention, too.
Be the first to receive breaking news alerts and more stories like this by subscribing to our mailing list.