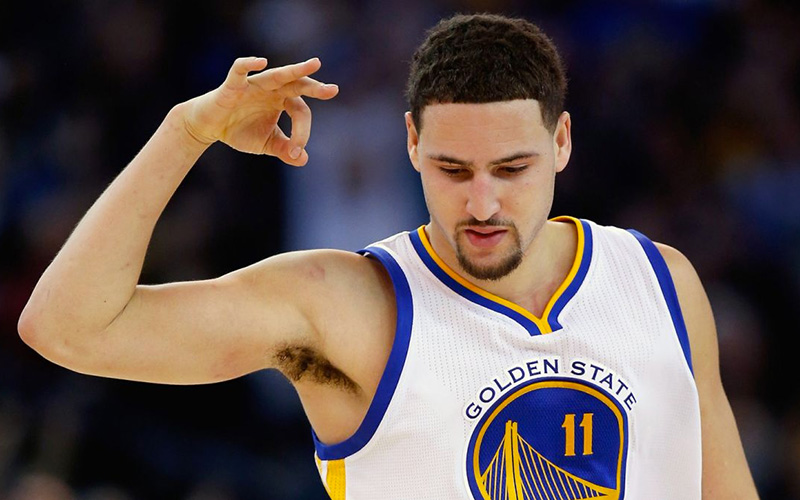 This is why the Warriors are so dangerous. Everyone knows that Steph Curry can put the game on his back, and Kevin Durant has made a name in the league as a team leader and big time scorer. Well, it turns out Klay Thompson has no problem helping out his fellow guards and just taking over a game.
That's exactly what he did last night against the Pacers. Thompson became the talk of the NBA after scoring 60 points in the 142 – 106 win, but what makes this most impressive is that he did it in just 29 minutes. That's right, the dude scored 60 and he didn't even play in the fourth quarter.
His performance will go down as one of the all-time greatest single game performances, and you know if this had been a close game (or if this had been Kobe) and he stayed in the entire game, that total would have only been higher.
Not surprisingly, as the game rolled on, the reactions rolled in across social media, including from some of his own teammates.
Gotta try to cool him down somehow. #Klay pic.twitter.com/GF4HYRQ7ry

— Golden State Warriors (@warriors) December 6, 2016
This guy next to me was on ???today. 60 points?
Way to go my man @KlayThompson pic.twitter.com/P55oh9s4TA

— Zaza Pachulia (@zaza27) December 6, 2016
Steph Curry on Klay's 60 points in 29 minutes: "I'll put money on it, it'll never be touched again in the history of basketball."

— Kevin Jones (@Mr_KevinJones) December 6, 2016
Klay's 60 pts came on 46 touches.1.36 pts per touch.
That's higher than Draymond's avg kicks per month. 8 in last 6 months. 1.33 per month.

— Tony Sandoval (@TonySandoval14) December 6, 2016
My fave part about Klay's 60 pt game tonight is that he only played 29 mins, had 0 turnovers and went 10/11 from the FT Line. #DubNation

— #justincrisostomo (@letitoutJ) December 6, 2016
https://twitter.com/AdamJosephSport/status/806007220425015296
Absolutely in awe of Klay's 60. But dude, slow down. You're only allowed to go up to 80. #Respect81

— Jutt Sulit (@juttsulit) December 6, 2016
Klay's done. Oracle erupts. What a performance. 60 in 3 quarters.

— Paul Dawkins (@Paul__Dawkins) December 6, 2016
And of course, there's always going to be the haters saying it's not as good as Kobe or the legend himself, Wilt.
Great to have had Kobe on the Lakers.

Warriors fans loving Klay's 60.

Lakers fans making sure to note Klay fell short of Kobe's 62.

— Johnny (@jnavla) December 6, 2016
https://twitter.com/JayRanoOWA/status/806009213130510336
"Kobe's 81 was better" "l

"Klay's 60 is just as good if not better"

Wilt Chamberlain scored 100 in a game everyone

— Call from: I'm not giving my name to a machine (@JeffZagurski) December 6, 2016
Regardless of what they say, though, last night was an unreal performance by Thompson, and I, for one, can't wait to see if he can keep it going when they play the Clippers later this week.
Be the first to receive breaking news alerts and more stories like this by subscribing to our mailing list.