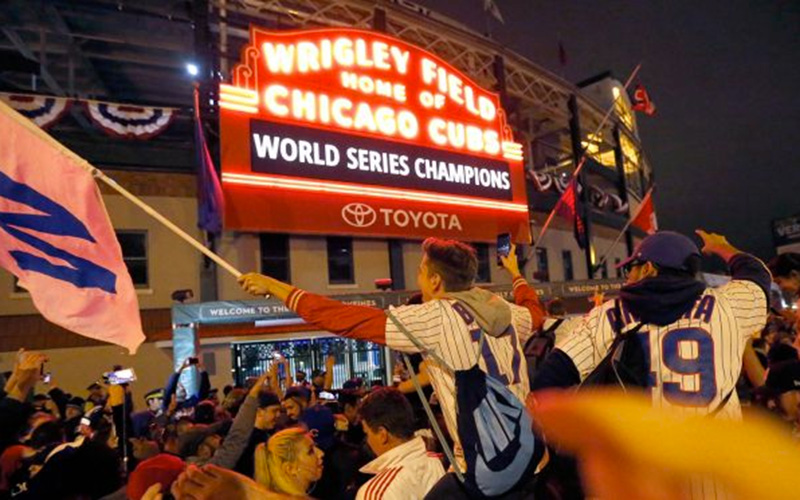 The Chicago Cubs did it! They won the 2016 World Series, overcoming a 3-1 deficit and defeating the Cleveland Indians 8-7, ending a 108-year title drought. It took the Cubs a long time to get to this point, considering the last time they won the world series, TVs didn't even exist — you listened to the game on the radio.
So yeah, a lot has changed since the last time the Cubs won the World Series. But one thing that hasn't changed is the spirit of the team's most diehard fans, which could be observed outside Wrigley Field Wednesday night (Nov. 2).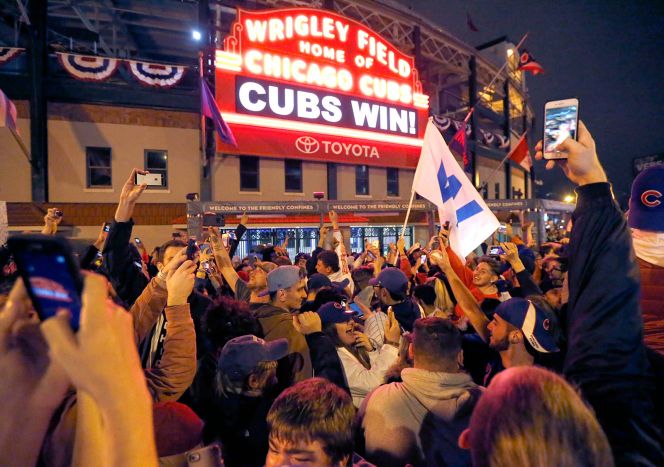 As you can imagine, Cubs fans completely lost their collective sh*ts after the final out when the marquee outside the Chicago stadium read, "CUBS WIN!"
WATCH HERE (VIA EARTH CAM):
Crowd outside Wrigley reacting to #Cubs win of #WorldSeries (via @EarthCam) pic.twitter.com/pD2MLwXlRj

— Matt Trevithick (@M_Trevithick) November 3, 2016
Notice how a lot of people were cheering before the sign changed because they were watching the game on their phone, but once the marquee said those glorious two words ("CUBS WIN"), the ENTIRE crowd erupted with cheers.
Even if you're not a Cubs fan and/or couldn't give two wet farts about baseball, it's refreshing seeing a group of diehards who've been waiting their whole lives for this moment finally getting the chance to celebrate a big win like this.
Also, is this (see below) real?
And now, an important message from Wrigley Field ? pic.twitter.com/feVF9mHCdd

— Bleacher Report (@BleacherReport) November 3, 2016
Because if so, whoever was running the marquee last night is a straight up SAVAGE.
Be the first to receive breaking news alerts and more stories like this by subscribing to our mailing list.