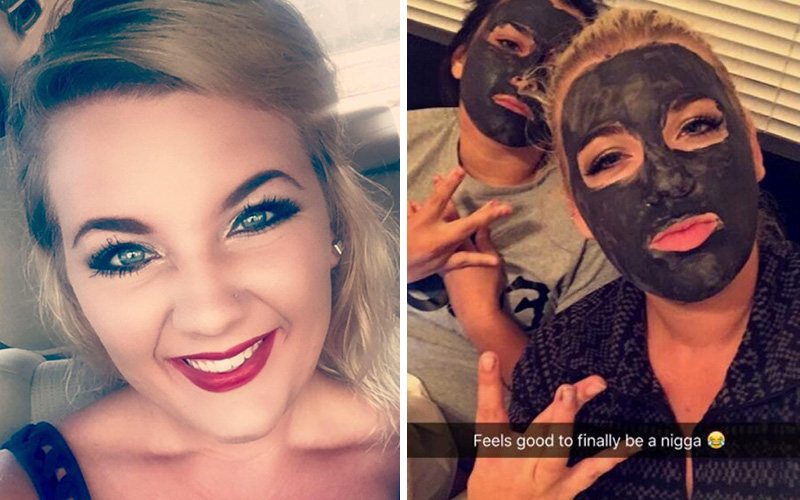 A former Kansas State University (KSU) student has caused an uproar on social media after posting a picture appearing to show her and a friend in "blackface" on Snapchat.
The image — which shows a white woman named Paige Shoemaker and her friend, later identified as Sadie Meier, both wearing blackface with the caption "Feels good to finally be a ni**a" — went viral after it was shared on Twitter.
KSU has since released a statement saying that they were "upset" by Shoemaker and Meier's racist photo and the two of them were NOT students at the school.
Here are some things to know:
1. The image was shared by a student on Twitter who follows Paige Shoemaker on social media.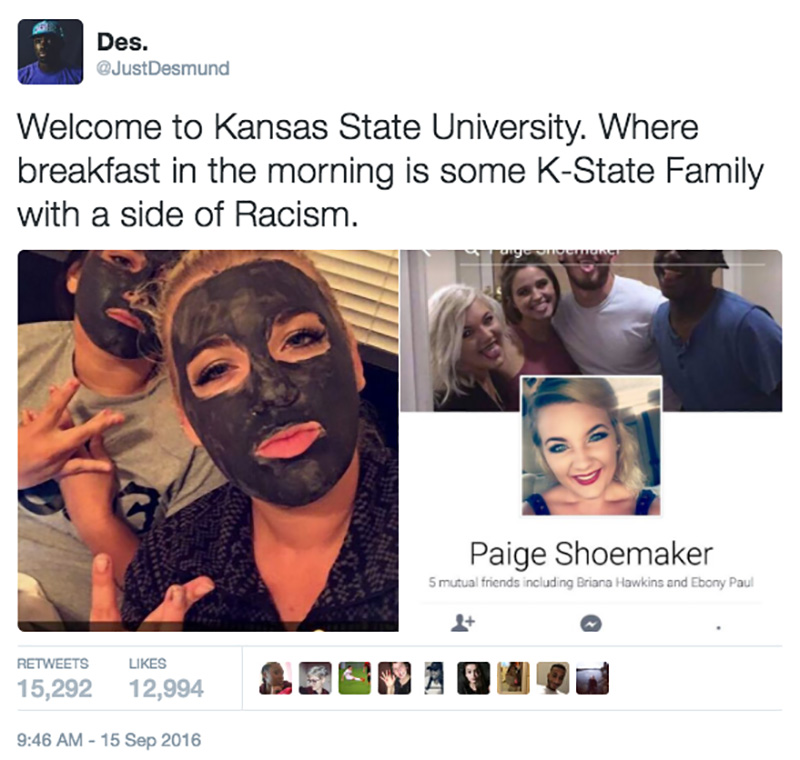 On Thursday morning, Kansas State University student Desmund Weathers posted a screenshot from Paige Shoemaker's snapchat on Twitter.
The screenshot showed Shoemaker and her friend Sadie Meier wearing blackface and throwing up the Westside W with the caption "Feels good to finally be a ni**a." The inappropriate photo also included a tag to Kansas State University.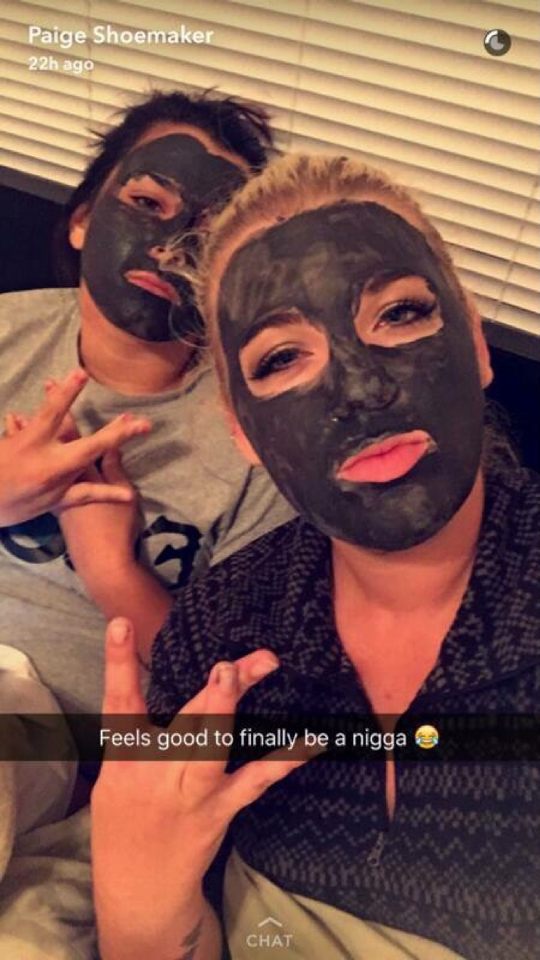 Along with the screenshot, Weathers also posted Shoemaker's Facebook page on Twitter. Both posts quickly went viral on social media.
"Welcome to Kansas State University. Where breakfast in the morning is some K-State Family with a side of Racism," Weathers tweeted.
Welcome to Kansas State University. Where breakfast in the morning is some K-State Family with a side of Racism. pic.twitter.com/Vmdkl5g27g

— Des. (@JustDesmund) September 15, 2016
In another tweet, he wrote about the difficulties of being a black student at KSU.
"But I'm supposed to walk into my classes feeling completely comfortable with people on our campus who think like this?" he inquired.
But I'm supposed to walk into my classes feeling completely comfortable with people on our campus who think like this?

— Des. (@JustDesmund) September 15, 2016
Weathers' tweet showing Shoemaker in blackface has been retweeted more than 15,000 times.
2. Kansas State University released a statement condemning Shoemaker and Meier's actions.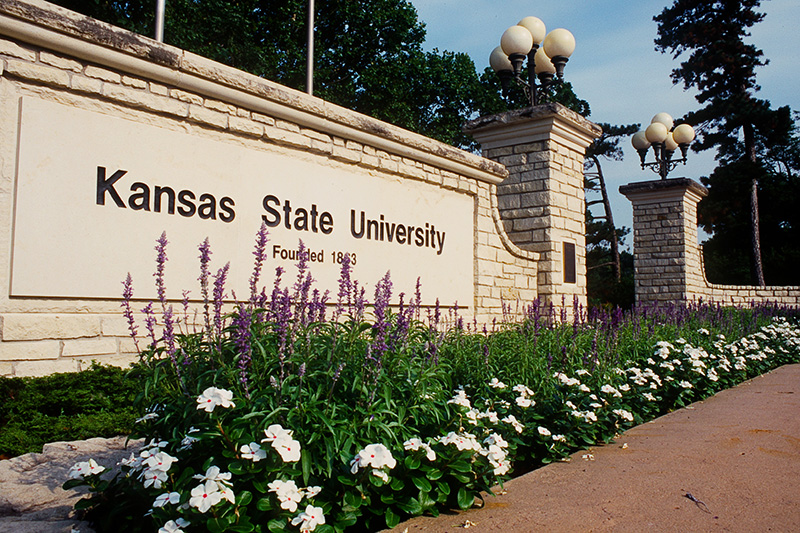 After the picture of Shoemaker in blackface went viral on social media, Kansas State University's Vice President of Student Life Pat Bosco released a statement responding to the controversy.
"This photo has students, faculty, staff and other members of the K-State family upset. It rightly should, as there is no place for racism at our university, regardless of what the intentions may have been," Bosco said. "K-State prides itself on being one family, no matter your race, ethnicity, gender, sexual orientation or abilities."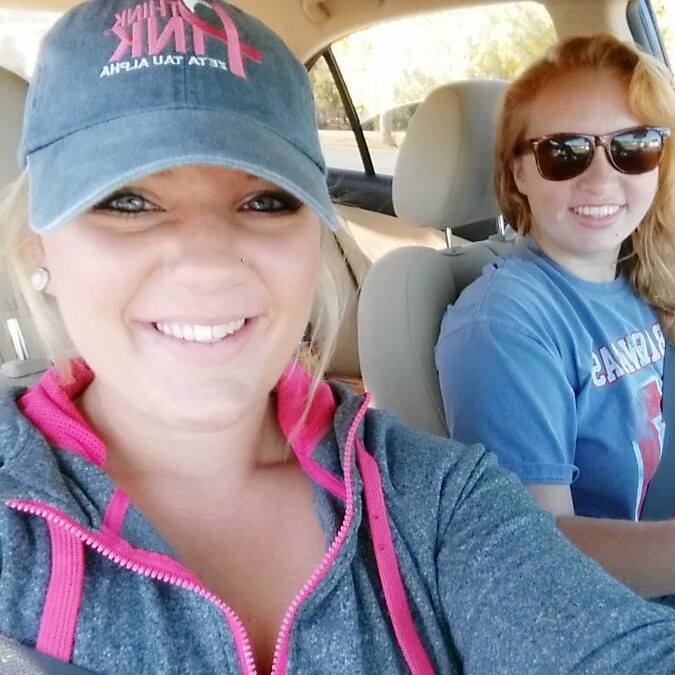 Shoemaker's former sorority Zeta Tau Alpha also disavowed her racial comments and said she hasn't been a member since 2015.
"We have become aware that a former member of our chapter has posted racist comments on her social media channels. While she did join the Beta Upsilon Chapter at Kansas State University in 2013, she has not been a member since spring 2015 and is no longer affiliated with the organization in any capacity. Her words and actions certainly do not reflect the values and principles of Zeta Tau Alpha."
3. Paige has "apologized" since the picture went viral.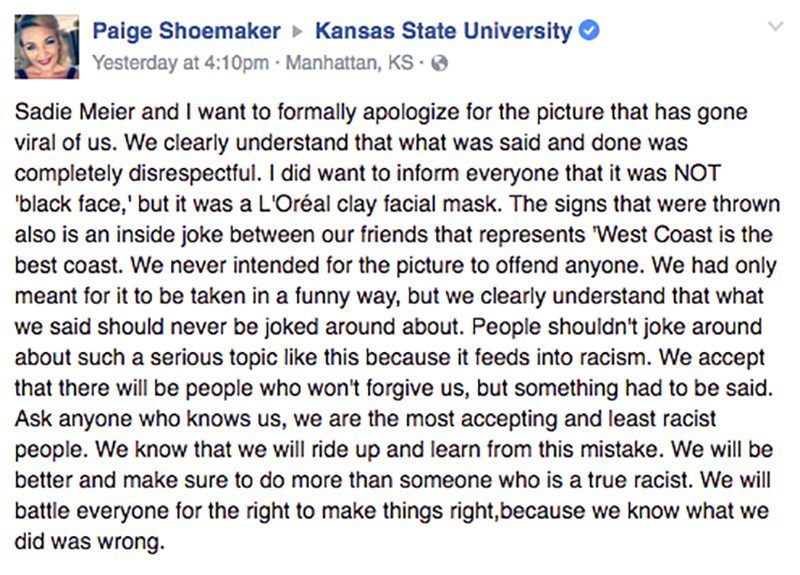 In response to all the flack she has been catching over the viral photo, Paige Shoemaker wrote a terrible, half-a** non-apology (on behalf of herself and Sadie Meier) in a lengthy message on Facebook.
"Sadie Meier and I want to formally apologize for the picture that has gone viral of us. We clearly understand that what was said and done was completely disrespectful. I did want to inform everyone that it was NOT 'black face,' but it was a L'Oréal clay facial mask. The signs that were thrown also is an inside joke between our friends that represents 'West Coast is the best coast. We never intended for the picture to offend anyone. We had only meant for it to be taken in a funny way, but we clearly understand that what we said should never be joked around about. People shouldn't joke around about such a serious topic like this because it feeds into racism. We accept that there will be people who won't forgive us, but something had to be said. Ask anyone who knows us, we are the most accepting and least racist people. We know that we will ride up and learn from this mistake. We will be better and make sure to do more than someone who is a true racist. We will battle everyone for the right to make things right,because we know what we did was wrong"
In an interview with Fusion, Shoemaker said that the picture was posted Tuesday night to her Snapchat and she was wearing a L'Oreal clay facial mask when it was taken.
According to Shoemaker, the picture was meant to be a joke. "It was sent in a joking manner to our friends," she said. "I am the least racist[*] and most accepting person you will meet. Never would I send it in a derogatory way."
[*]Ed. note: Notice how she said "LEAST racist," which makes it sound like she's racist, just not as racist as some people. So, basically, in her opinion, if you put her in a room with 10 racist people, she'd be the LEAST racist of them all. Fantastic.
4. According to KSU, Shoemaker wasn't "expelled," though she is no longer a student at the school.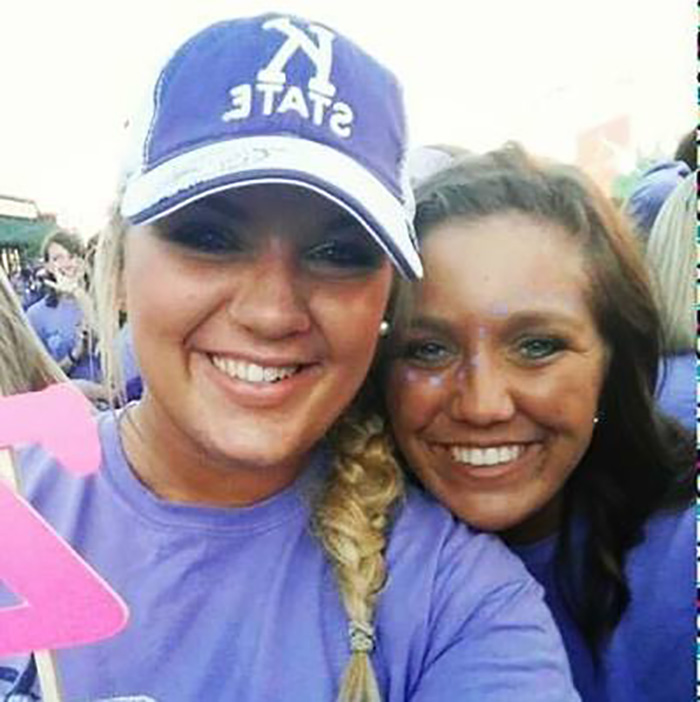 KSU released another statement saying that Shoemaker is, in fact, a FORMER student at the school, and wasn't "expelled" as some news reports are stating.
She was enrolled last spring, but was not for the fall. The school also said Shoemaker's friend Sadie Meier is not associated with the university.
On Sept. 15, the university received notice that a derogatory social message and photo was sent out via social media. The involved person is not currently enrolled at the university. It is our understanding the second individual in the photo is not associated with the university.

Immediately upon notification, the Campus Climate Response Team, or CCRT, which consists of representatives from the Office of Diversity, Office of Institutional Equity, Office of Student Life, the K-State Student Union and Division of Communications and Marketing, met to address this recent social media posting. This racially offensive photo with a derogatory message has upset the K-State family and is not in concert with our principles of community. Such messages on social media are harmful to all.

In cooperation with the Office of Student Life and the Office of Institutional Equity, or OIE, the university will reinforce its value for diversity and inclusion while also communicating our principles of community for all students, faculty and staff. As an integral part of the response to this concern, the university will offer support services to any affected student and also will contact the involved parties. This incident supports our continued proactive outreach and cultural training efforts to the students, faculty and staff. Additionally, our office is working diligently with the Student Governing Association, or SGA, its multicultural student coordinator and interested student groups to realize its Diversity 2025 goals, which include social justice.

The Office of Diversity mentors and advises our various multicultural student organizations, especially our core groups — the Black Student Union, or BSU; Hispanic American Leadership Organization, or HALO; Asian American Student Union; and Native American Student Association — who have shown leadership in raising the university's awareness to these incidents in a thoughtful way. We also support our affinity groups, Black Faculty Staff Alliance, or BFSA, Alianza, LGBTQ Faculty Staff Alliance and Indigenous Alliance who are not immune to such comments and yet they work to support and mentor our future leaders.

As members of the K-State family, we should always visualize and work toward a safe, welcoming environment for our community. I and other members of the CCRT welcome the opportunity to speak with our affected students and employees as we continue create a culture of inclusion for the entire K-State family.

Yours in service,
Dr. Zelia Wiley
5. Paige Shoemaker says she and her friends are comfortable using the N-word and she doesn't understand why people are so offended by her "joke."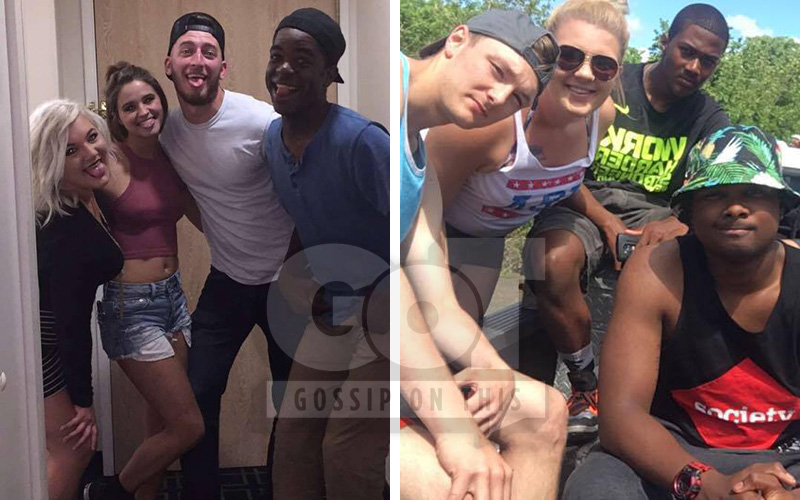 Despite releasing a public apology, Shoemaker still doesn't seem very remorseful for her actions.
Just hours ago on her Facebook, she posted a picture of a black man in whiteface juxtaposed with her blackface photo in an attempt to try and downplay the controversy she has sparked on social media.
"Interesting… but it's just a joke right?" she wrote in the caption of the photo.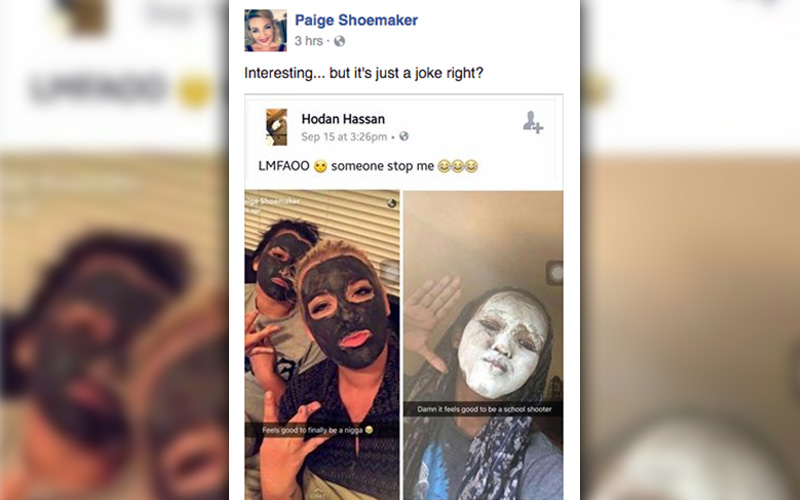 Shoemaker also told KSNT that she and her friends often use the "N word" because everyone in the group is comfortable with the word.
"I mean, not that this is a good thing but we kind of like, that word kind of happens in our friend group (because) we know that everyone is calm. We're a big family so that word does not offend anyone in our group," Shoemaker said.
Be the first to receive breaking news alerts and more stories like this by subscribing to our mailing list.