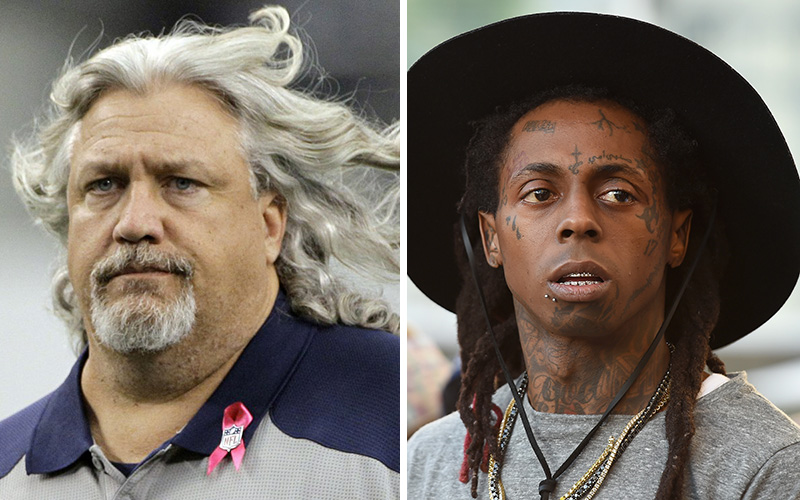 Two potential robbers in New Orleans made it very clear that Rob Ryan "ain't Lil Wayne." It turns out Ryan, defensive assistant for the Buffalo Bills and twin brother to Rex, was being targeted by a group of robbers last year when he was still with the Saints.
The diabolical plot never came to fruition, though, because the criminals in question are apparently complete idiots. One of the guys planning the robbery left a message on his partner's voicemail describing Ryan's lack of security.
"He don't got no security," said the caller. "He's just a regular football coach…He ain't…big…like Lil Wayne or nobody…that got bodyguards everywhere. He ain't like Lil Wayne. He just a…football coach…Defensive coordinator of the Saints. He don't have no bodyguards…in front his house."
The only problem is that the robber dialed the wrong damn number. While thinking he was talking to his friend, the guy had actually called a federal worker who turned the voicemail over to local police. Two suspects have been connected to the scheme to rob Ryan along with six others indicted in connection to a conspiracy to run a string of robberies in the NOLA.
Besides the obvious ridiculousness of this story, what gets me is this guy's obsession with Lil Wayne. He clearly knows a lot about Weezy and his security detail, which leads me to believe Rob Ryan wasn't their first choice of victim.
And also, robbers, if The Wire taught us anything, it's that you should either only speak in person or use burners. Rookie mistake, guys.
Be the first to receive breaking news alerts and more stories like this by subscribing to our mailing list.