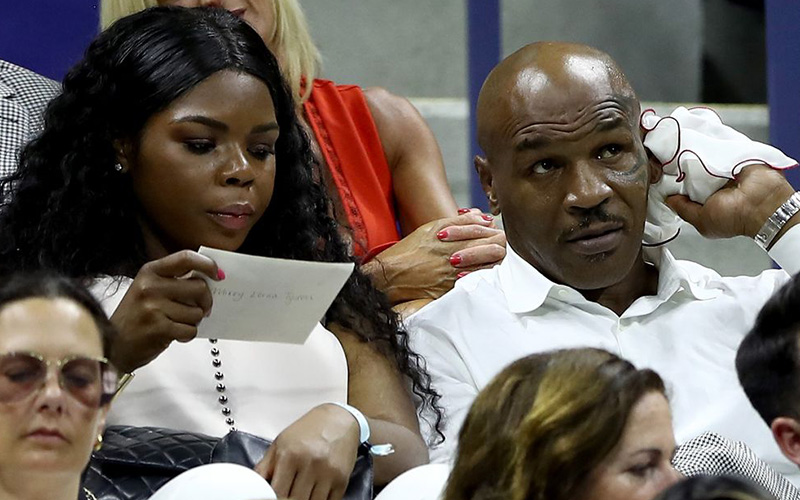 When Mike Tyson wants some ice cream, Mike Tyson gets some motherf**king ice cream. And you know what? He doesn't have to pay for it, either. That's basically what happened Monday night at the US Tennis Open which Tyson was attending.
"I was like, are you serious? Am I imagining this? (Tyson) was like 'I feel like having an ice cream' and he just took it." That's the story of the concession worker who was working the Ben & Jerry's stand at Arthur Ashe Stadium Monday night (Aug. 29).
Apparently Tyson just walked up to the stand and snagged an ice cream bar before strolling off without paying for it. But like one stunned worker said, "What are you going to do, fight him? He's Mike Tyson."
No, you're not going to challenge the "baddest man on the planet" over a $5.50 bar of ice cream. Instead, you just let him go back to the Presidential Suite and ham it up with other celebrities like Jewel, Alex Baldwin, Anna Wintour and Vera Wang.
As news spread, Tyson's publicist, Joann Mignano, said that it was a "misunderstanding."
"Mike got the ice cream and was going to have the host pay for it as he was running around with his family. He was being pulled in a lot of directions as his daughter, Milan, is a rising tennis star and huge fan of the sport…His host, David Slade, got the money from Mike and has made sure the bill has been taken care of."
What Mignano fails to mention is that Tyson admitted, "Yeah I know, I stole your ice cream," and that the payment didn't show up until the next day.
So we all know damn well he stole that sh*t and wasn't planning on paying for it. And you know what, if I was working that stand, I'd be just like those workers and wouldn't have done a thing about it. I've seen the man in action and know better.
Be the first to receive breaking news alerts and more stories like this by subscribing to our mailing list.