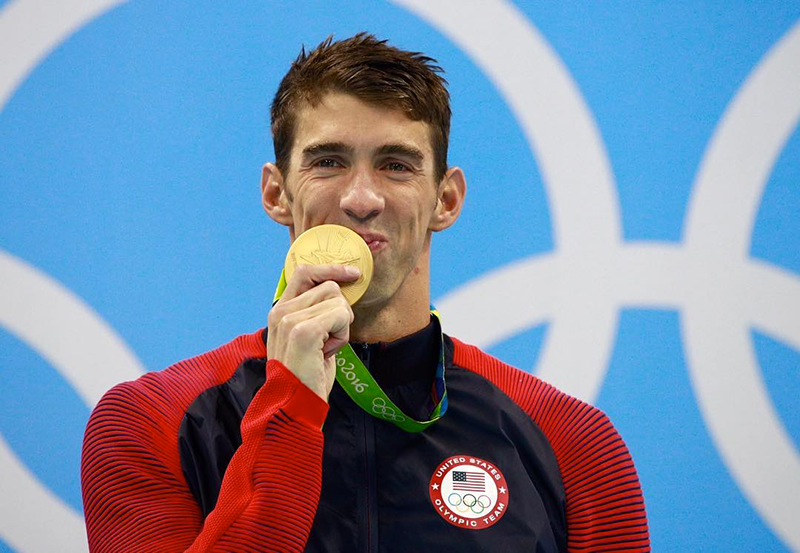 Saturday night (Aug. 13), Michael Phelps won another gold medal in what will likely be his last Olympic event ever.
The event was the 4×100 team medley in which Phelps swam the third leg breaststroke. He dove into the water behind Great Britain and managed to take over the British swimmer to give team America the lead, and ultimately the victory.
This gold gives Phelps his 23rd gold medal and 28th medal total, solidifying his title as the most awarded Olympic athlete ever. To put that into perspective, Phelps has won more gold medals than these 56 countries. Basically, the dude's got a lot of bling.
Phelps started his Olympic career at the young age of 15 during the 2000 Olympic games. His first go around he managed to win a whopping zero medals. Not even a bronze. But flash forward four years, and the 19-year-old decided he didn't like losing. In the 2004 games, Phelps pulled home 6 gold medals and 2 bronze, thus beginning the quest to become the GOAT.
And the rest is history. 20 medals and twelve years after his first medal victory, Phelps has said repeatedly that this will be his last Olympic event ever. And with his level of success, the 31-year-old has earned himself an early retirement.
"My swimming career might be over, but I have a future ahead of me," Phelps said immediately following his last race.
But many wonder if that's actually going to be the case. Remember, four years ago he said the same thing, announcing he would not be competing in the Rio games. One person in particular who doubts Phelps' claim is his green-haired friendly rival, Ryan Lochte.
In an interview recently, Lochte said, "I guarantee he will be there," referring to the 2020 games in Tokyo. "I think so. I really think so. So Michael, I'll see you in Tokyo." And it should be noted, Lochte called it four years ago the Phelps would be here today after he said he wasn't going to compete.
And it turns out Lochte isn't the only one rooting for another run by Phelps. His mother, Debbie, thinks it would be "wonderful" if her son competed again at the age of 35. "I already have the race picked out."
Whether or not we see Michael Phelps in the pool again, one thing is certain:
Be the first to receive breaking news alerts and more stories like this by subscribing to our mailing list.