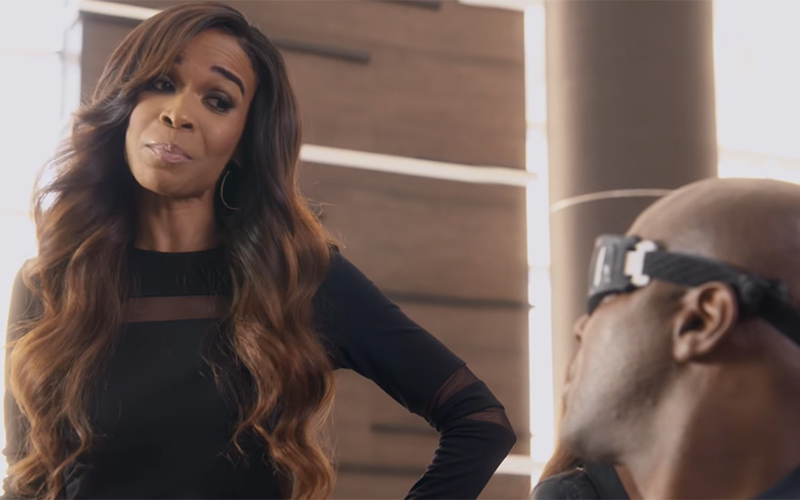 Look, it's no secret that the most successful, visible and popular member from Destiny's Child is Beyoncé. Kelly Rowland comes in a distant second and Michelle Williams…well, did you even remember she was a part of the group?
Now, before any Destiny's Child fans (or more specifically DC3 fans, because DC4 fans have never seen it for Michelle) claw my eyes out, of course Michelle is a talent in her own right. Anyone who has studied or followed Destiny's Child after they became DC3 knows how funny, kind and grounded she is. But to the general public, she's that "other" girl in Beyoncé's old group.
Never one to take herself TOO seriously, Michelle plays up her diminished status in her post-Destiny's Child life in a commercial for Foot Locker.
In the clip, which is called "Stand Out," Golden State Warrior player Draymond Green is sitting in a hotel lobby when he's approached by former Chicago Bull Horace Grant. Grant compliments Green on his Foot Locker gear but then encourages him to find a way to stand out, since he's surrounded by MVPs.
Green responds in surprise, asking, "You play?" He clearly doesn't recognize Grant. So Grant pulls out his iconic goggles and reminds him who he is. After Green realizes he's talking to a living legend, Michelle Williams, who casually happens to be walking by, chimes in and tells Green, "He's right, you know?"
Confusing Michelle for a waitress, Grant shoos her away telling her they don't need anything. Michelle balks and informs him that she doesn't work at the establishment. She is Michelle Williams! You know, from Destiny's Child.
"Oooohhh!" Grant and Green say in unison.
At that moment, Green asks Michelle if he can introduce him to….and then the commercial fades to black. If you have to guess who the person implied in that commercial is, you must've been dropped on your head as a child.
Watch the very funny Foot Locker commercial featuring Michelle Williams below.
Be the first to receive breaking news alerts and more stories like this by subscribing to our mailing list.