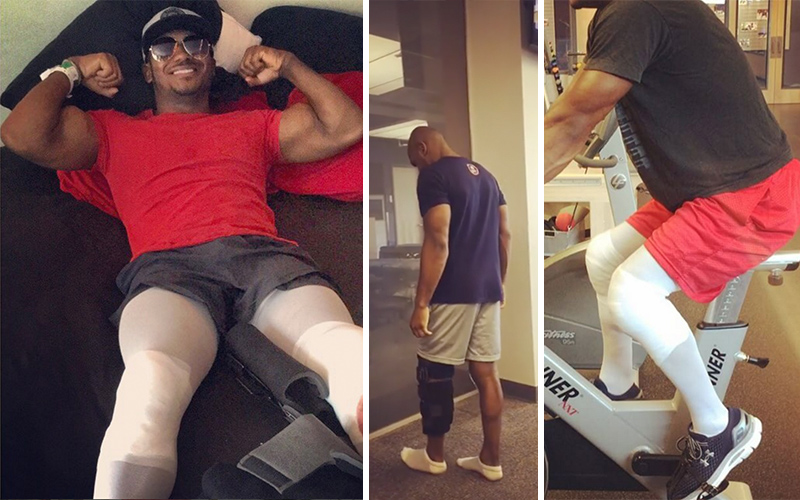 Olympic gymnast John Orozco has been dealt one of the absolute worst hands as of late. You might think you're having a bad day, but John Orozco has been having the worst year ever.
The New York gymnast, who was adopted as a small boy and raised by two Puerto Rican parents, lost his biggest cheerleader unexpectedly when his mother, Damaris Orozco, died in February of last year. His mother has long battled various health issues but she finally succumbed to them last year. It crushed Orozco emotionally.
https://www.instagram.com/p/BBxtVz8nYiZ/
As if the loss of his mother wasn't enough, John suffered a serious physical setback when he tore his Achilles' Heel in June last year.
Doctors told him he wouldn't be able to compete in time for the Olympic trials, but Orozco pushed himself and made it through the trials, clinching his spot on the U.S. Mens' Gymnastics team destined for Rio. He completely broke down as he accepted his spot on the team.
This would've been a Cinderella story if it ended there and continued with news about John's triumphant performance in Rio, which would erase the sting of his failures in 2012 at the games in London. But despite his incredible performance in the qualifying rounds, just before he was set to head out to Rio, Orozco suffered ANOTHER injury that would prevent him from competing in the Olympic Games in Rio.
While training with the team in July, John suffered another knee injury that would take him out for the count, according to NBC Olympics.
Orozco got less than three weeks to enjoy the victory before heartbreak hit him again. Another knee injury: a torn anterior cruciate ligament and meniscus in his left knee after dismounting from the horizontal bar at a training camp with the rest of the Olympic team. This was the same injury that he suffered in October 2012.
His redemption was snatched away just when it seemed like it was within reach.
This is also devastating from a diversity perspective. John Orozco was the only visibly black man on the mens' gymnastics squad. He was replaced by alternate Danell Leyva, a Cuban-born immigrant who is also certainly a man of color. Leyva isn't an unknown as he won a bronze medal at the 2012 Olympic Games in London. Like Orozco, he too is hoping to prove he can do more than what he showed back then. But still, while the U.S. Womens' Gymnastics Team has two black women on its squad with Gabby Douglas and Simone Biles, the mens' team just got a bit more light-skinned.
The good news is that John Orozco remains an eternal optimist. He is cheering Team USA on from the sidelines and sharing the progress of his recuperation as well.
https://www.instagram.com/p/BIfTiDhjmsa/
https://www.instagram.com/p/BIV5NooDE7i/
https://www.instagram.com/p/BIp5uxMDOZR/
At 23, missing out on the Olympic Games in Rio is devastating, as gymnastics is a sport that athletes age out of quickly, which makes the likelihood of competing in the 2020 Olympic Games in Tokyo that much smaller. But if John's proven anything yet, it's that he's never one to back down from a challenge.
Be the first to receive breaking news alerts and more stories like this by subscribing to our mailing list.