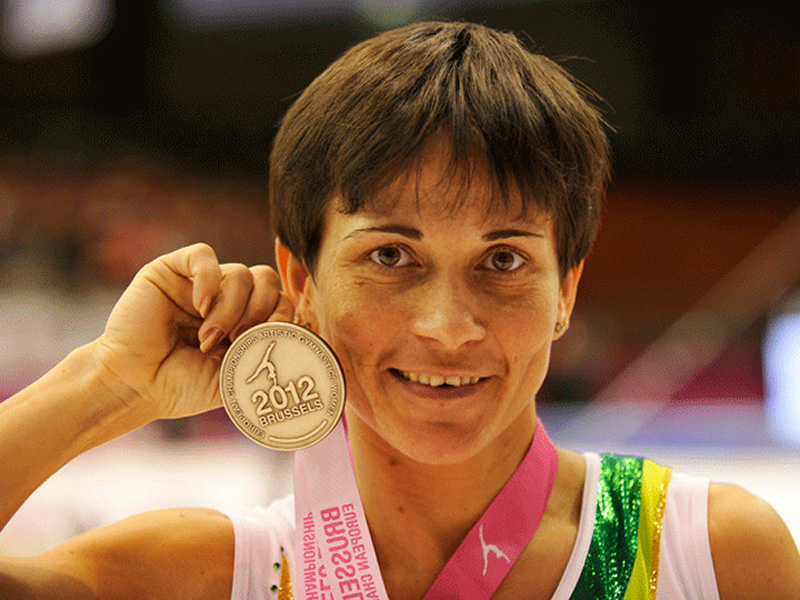 In the summer of 1992, Oksana Chusovitina was a 17-year-old gymnast competing for the Soviet Union. That year, she placed seventh in the floor final and shared in the team performance gold medal. Flash forward twenty four years, and the now 41-year-old representing Uzbekistan is still going strong in her record 7th Olympic Games.
In a sport that favors the young, Chusovitina is truly a remarkable story. Most gymnasts are lucky to get two Olympics, with very few competing in three. This is a sport where 22-year-old American gymnast Aly Raisman is nicknamed Grandma. So for there to be a 41-year-old competing in her 7th games — one who has a child the same age as some of her competitors — is truly unheard of.
Oksana Chusovitina is 41, and she's competing in Rio against gymnasts that are as young as her kid!https://t.co/AyPRlbAa1x

— SB Nation (@SBNation) August 8, 2016
And the story behind her journey is as fascinating as her ability to still compete. She has represented three countries in her seven trips to the Olympics, starting with the now defunct Soviet Union. Following her stint with the Union, Chusovitina returned to her home country of Uzbekistan where she partook in the 1996, 2000, and 2004 Olympics.
Her success over the years (70 medals in international competitions) earned her the title of Honored Athlete of the Republic of Uzbekistan.
But in 2002, Chusovitina was forced to move to Germany when her son, Alisher, was diagnosed with leukemia. Knowing that the medical system in her home country was ill-equipped to treat her son, she moved to Germany where her son would receive better medical attention. She used a combination of fund raising and winnings from competing to pay for his treatment.
As her son underwent treatment at the University of Cologne, Chusovitina began training with the German team, and after gaining citizenship in 2006, she represented Germany in the 2008 and 2012 games. Her son was cleared of the disease after six years of fighting and Chusovitina returned to her home country who she is currently representing.
"I am feeling good," she said in an interview with the AP. "On the podium, everyone is the same whether you are 40 or 16. You have to go out and do your routine and your jumps. But it's a pity there are no points for age."
At this point, it's purely her love for the sport and her passion for competing that keeps her going. But her age is actually an advantage in certain regards. She says she doesn't train much anymore because, well, she doesn't need to.
"I do a lot of mental training," she told ESPN. "I typically put in two hours in the gym. Then I visualize exactly how the skill needs to be done, and I know exactly what my body needs to be doing." More than a quarter century of competing has its advantages, apparently.
And it seems that lack of training is hindering her, at all. In her signature event, the vault, Chusovitina placed 5th Sunday (Aug. 7), earning her the chance to compete in the finals and go for another Olympic medal.
It just goes to show that age truly is just a number.
Be the first to receive breaking news alerts and more stories like this by subscribing to our mailing list.