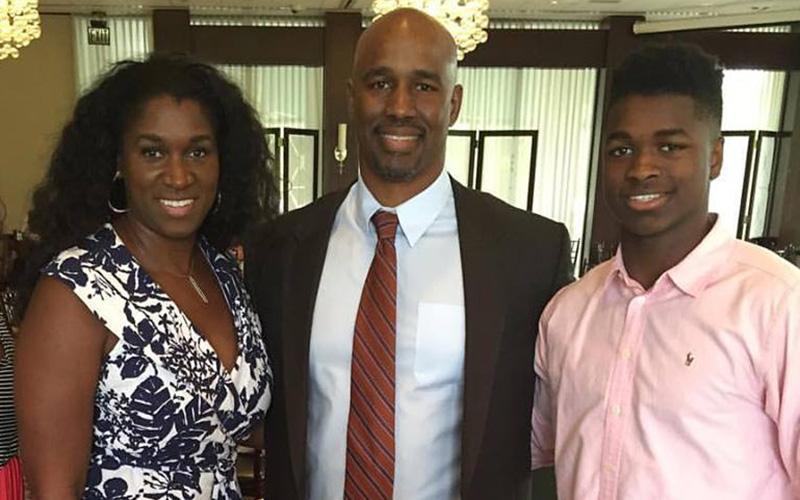 A former NFL player and his wife were shot and killed early Friday morning (Jul 29) in their Houston home, and the person police say murdered them is their own 16-year-old son.
Houston's KTRK reports that Antonio Armstrong, who played pro football for the Miami Dolphins in 1995, and his wife, Dawn, were shot inside their bedroom. Mrs. Armstrong was reportedly found dead when police arrived on the scene, and Mr. Armstrong was transported to Memorial Hermann Hospital, where he was pronounced dead. The couple's 16-year-old son, Antonio Armstrong Jr., has been charged with capital murder for the death of his own parents.
(Ed. Note: Some news reporters are refusing to release the 16-year-old's name due to his age, however, we here at GOT feel like this: he was old enough to take the lives of the very two people who brought him into the world, so he's old enough to have his name released.)
Investigators said it was Antonio Jr. who called 911 to report the shooting, and after searching the home they found a smoking gun with a note beside it that read, "I've been watching you." Investigators also said there were no signs of forced entry or a struggle and nothing in the house was disturbed.
16-year-old Antonio Armstrong Jr. was arrested on the spot and he will likely be charged as an adult, investigators said. A motive for the shooting is currently unknown, and people who knew the Armstrongs, who owned three fitness centers in the Houston Area, have no idea why their son would commit such a violent crime.
Posters and flowers outside Antonio Armstrong's gym in Bellaire #abc13 pic.twitter.com/vxuOxNVlDu

— Kaitlin McCulley (@KaitlinMcCulley) July 29, 2016
"There was nothing left out. There was no neglect or anything. There was nothing that even could possibly have justified this situation," Dawn Armstrong's cousin, Vaun Lee, told KTRK. "This doesn't even make sense. It makes no sense."
"This was an outstanding family," Detective Jimmy Dotson said. "The [father] was an absolute hard-working breadwinner. He's an associate pastor at a church in the area. The mother was apparently a great mother."
All three of the couple's children, including a 20-year-old son, another 16-year-old son (Dawn's nephew whom she was raising) and a teenage daughter, were reportedly in the home at the time of the shooting, but were unharmed, Houston Police Department homicide investigator Jimmy Dodson told the Houston Chronicle.
Be the first to receive breaking news alerts and more stories like this by subscribing to our mailing list.