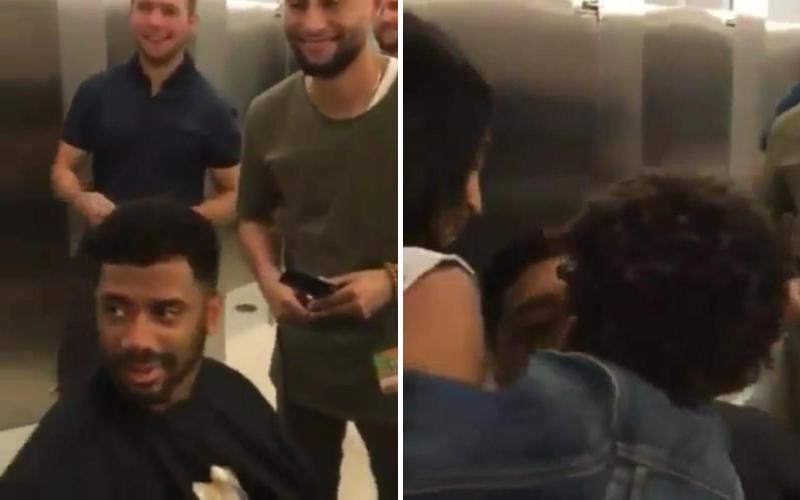 Welp … Ciara, Russell Wilson, and Baby Future are officially a family of three and Future's fans are fuming. During a Facebook Live session with the couple, Baby Future seems to call Wilson "Papa" and gives his new stepdaddy a kiss.
https://www.instagram.com/p/BHvCvwzDET2/?taken-by=balleralert
The clip went viral, and Twitter did not like what they saw.
yoooo I'm not even a dad and that Baby Future "papa kiss" video hurt me lmfao can't blame Russ tho, he's obviously good to the kid but DAMN

— Uncle Mussï (@OX1OO) July 12, 2016
Ciara got Future's son kissing Russell Wilson in the mouth and calling him "Papa" bruh that's the highest level of disrespect

— Rondo Bryant (@BullHunitProof) July 11, 2016
aint no way future son should b calling that nigga papa or started doin it on his own ciara bitter ass taught him that shit

— incognegro (@Nuwop2Playa) July 13, 2016
https://twitter.com/Ghines02/status/753244911135174657
Baby Future calling Russel Wilson papa is not okay to me and Ciara aint shit for allowing that she just a spiteful ass bitch at this point

— Cowboy (@ProdByCowboy) July 13, 2016
Hahaaaa Ciara out here ruthless af. Why would you post a video of that man's son calling someone papa Russell. No respect

— RobynAlliyah_? (@Lili_StayMobbin) July 11, 2016
who put out the video of baby future callin russell wilson "papa" …. whats that all about ?? That aint mature …. smfh

— DJSuggablack (@DJSuggablack) July 12, 2016
https://twitter.com/AshhForDays/status/752855736162586624
However, there were plenty of people who didn't see anything wrong with the blended family bonding.
Honestly baby future calling Russell papa just goes to show who's had more of an influence on his life.

— Follow @CupsNConvos on IG! (@LeKuroKami) July 11, 2016
It's a violation for baby Future to call Russell "papa Russ" but it's not a violation for Future to be absent from his child's life. Ok

— ?? (@AmarRenee) July 11, 2016
Baby future on his own said Papa Russ. It wasn't rehearsed or staged. Future is the absence. Russ has filled the void. It's simple

— • 94 • (@9inety4Four) July 11, 2016
There is nothing wrong with baby future calling Russell papa. Stop it.

— ANNIE DREA (@AnnieDreaXO) July 11, 2016
So exactly why are ppl mad about baby future calling Russ papa????

— RY3 (@bro_young) July 14, 2016
Future has yet to respond to or acknowledge the video. But it's safe to say he's probably not too happy to see his son calling another man "papa." The rapper and Ciara have constantly been at odds and are in the middle of a custody battle.
Ciara also has filed a $15 million defamation lawsuit against Future for suggesting she was a bad mother. She recently added to the suit, stating that she was afraid he would try to hurt Wilson in some way.
A two-year-old toddler calling his stepfather "Papa Russ" should not be that big of a deal. But of course, we're dealing with very messy celebrities and their fans. I'm not going to claim Future is an absentee father like some on Twitter. However, we shouldn't complain that Ciara married a man who cares for her son and Baby Future cares for him.
Be the first to receive breaking news alerts and more stories like this by subscribing to our mailing list.