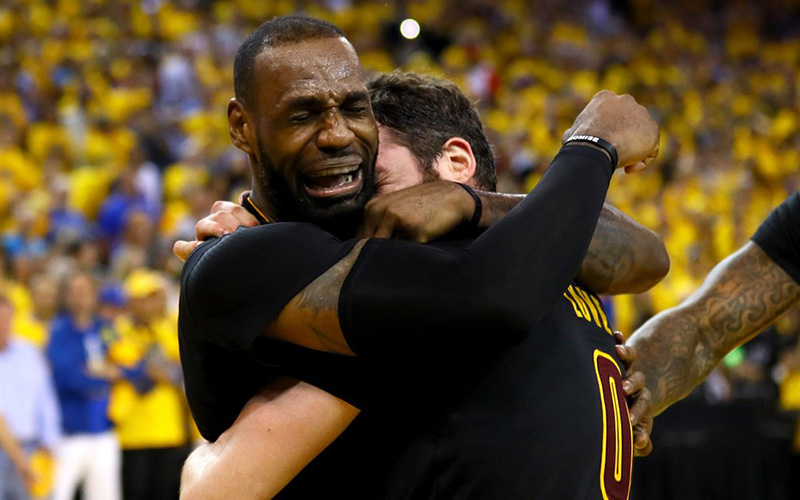 Sure, it was impressive. As LeBron said, "Against all odds. Against all odds," the Cavs managed to pull out a game 7 victory against the Warriors and become the NBA champions. And apparently, it was an emotional moment for James and the Cavs.
As soon as the final buzzer sounded, cementing the Cavs 93-89 victory, the tears started a rolling. The cameras immediately cut to LeBron James, and what was he doing? Jumping around in celebration? Hugging fellow teammates, like Kyrie Irving who made the game winning shot? Nope, he had collapsed onto the floor and burst into tears.
Meanwhile, on the bench, coach Tyronn Lue couldn't contain his emotions either. As the cameras swung over to him, they caught him leaning forward sobbing on the bench. J.R. Smith joined in on the action, letting the water flow as he hugged and celebrated with fellow teammates.
You can see all of the ugly crying here:
EVERYONE IS CRYING https://t.co/VP7XgBw0vz

— SB Nation GIF (@SBNationGIF) June 20, 2016
All of the emotions! #ThisIsWhyWePlay https://t.co/LAyrH4zEbs

— NBA (@NBA) June 20, 2016
#ThisIsWhyWePlay #NBAVine https://t.co/NcCVA340Ep

— NBA (@NBA) June 20, 2016
https://twitter.com/BrivnJimenez/status/744724278856155136
The emotions ran wild for the NBA Champion @Cavs after capturing their first title in franchise history! pic.twitter.com/k2r09lOPRZ

— NBA TV (@NBATV) June 20, 2016
I thought winning the 'ship was supposed to be a happy moment? Hell, even Steph Curry and the Warriors maintained their emotions better. Steph could be seen smirking, and even Draymond Green hung around to congratulate the Cavs.
Regardless, LeBron James and the Cavs made history last night and became the new NBA champions. And I guess when you're the champs, you can cry as much as you want to.
Be the first to receive breaking news alerts and more stories like this by subscribing to our mailing list.