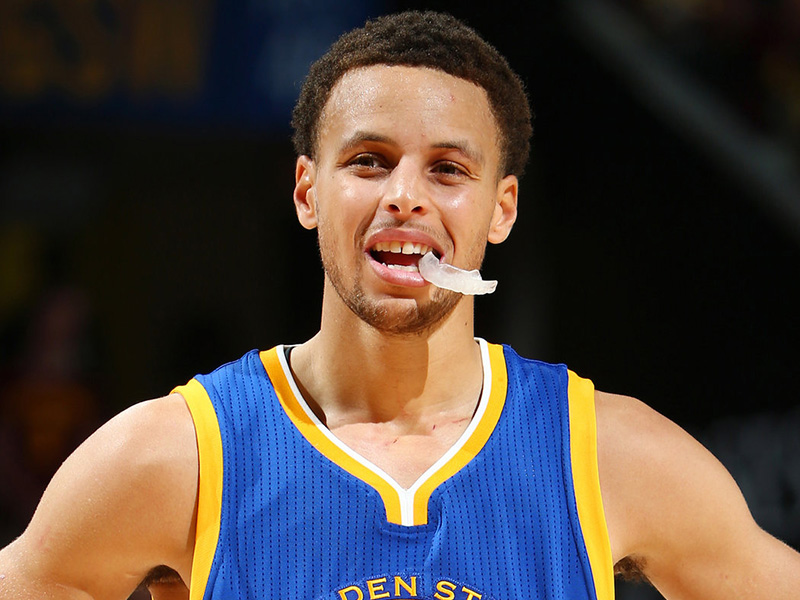 Game 6 of the 2016 NBA Finals ended up being better than it should have been.
With the Warriors scoring only 11 points in the 1st quarter, it looked like it'd be a blowout in favor of the Cavs. And while they ended up winning, forcing a game 7 back in Oracle Arena on Sunday, the highlight of the night had to come with about 4 minutes left in the 4th quarter.
After going a whole season without getting so much as 5 fouls, last night Steph Curry got 6 fouls for the first time and he was not too thrilled about it. After receiving his 6th foul going for a steal against LeBron, Curry went the fuck OFF, yelling at the ref and throwing his signature mouthpiece at one unsuspecting fan.
Watch the Vine clip here:
And here's another clip from Twitter in slow motion:
The dude who got hit by Curry's mouthpiece ? pic.twitter.com/0elzvUjzX5

— Will Manso (@WillManso) June 17, 2016
The antics were enough to warrant an additional technical on Curry, and at that point, the game got out of hand, with Steph Curry being ejected — the first time that has EVER happened in his career. But damn, who would've thought Curry (CURRY! of all people) could get so pissed? The affable, lovable, baby-faced shooter has always been the golden boy of the NBA.
But last night, the dude was pissed. In a showing unlike anything we've seen before, Steph went ham on the ref and some poor Cleveland fan. And who could blame him, really? He and his Warriors now sit one game away from being the first team in the NBA to lose the finals after being up 3-1.
In typical Curry fashion, though, he ended up high-fiving the fan and apologizing, even laughing with Cavs' coach Tyronn Lue as he walked off the court. It was good to see a little emotion out of the first ever unanimous NBA MVP, and hopefully he'll take that passion back to Oakland in game 7.
And while all eyes turn to Golden State for game 7, I'm saying keep an eye out for that mouth piece. Another mouth piece that Curry left behind after a regular season game is about to go up on auction and is expected to net over $5,000. This one, part of a Curry rampage in the finals, is sure to be a higher value.
Be the first to receive breaking news alerts and more stories like this by subscribing to our mailing list.