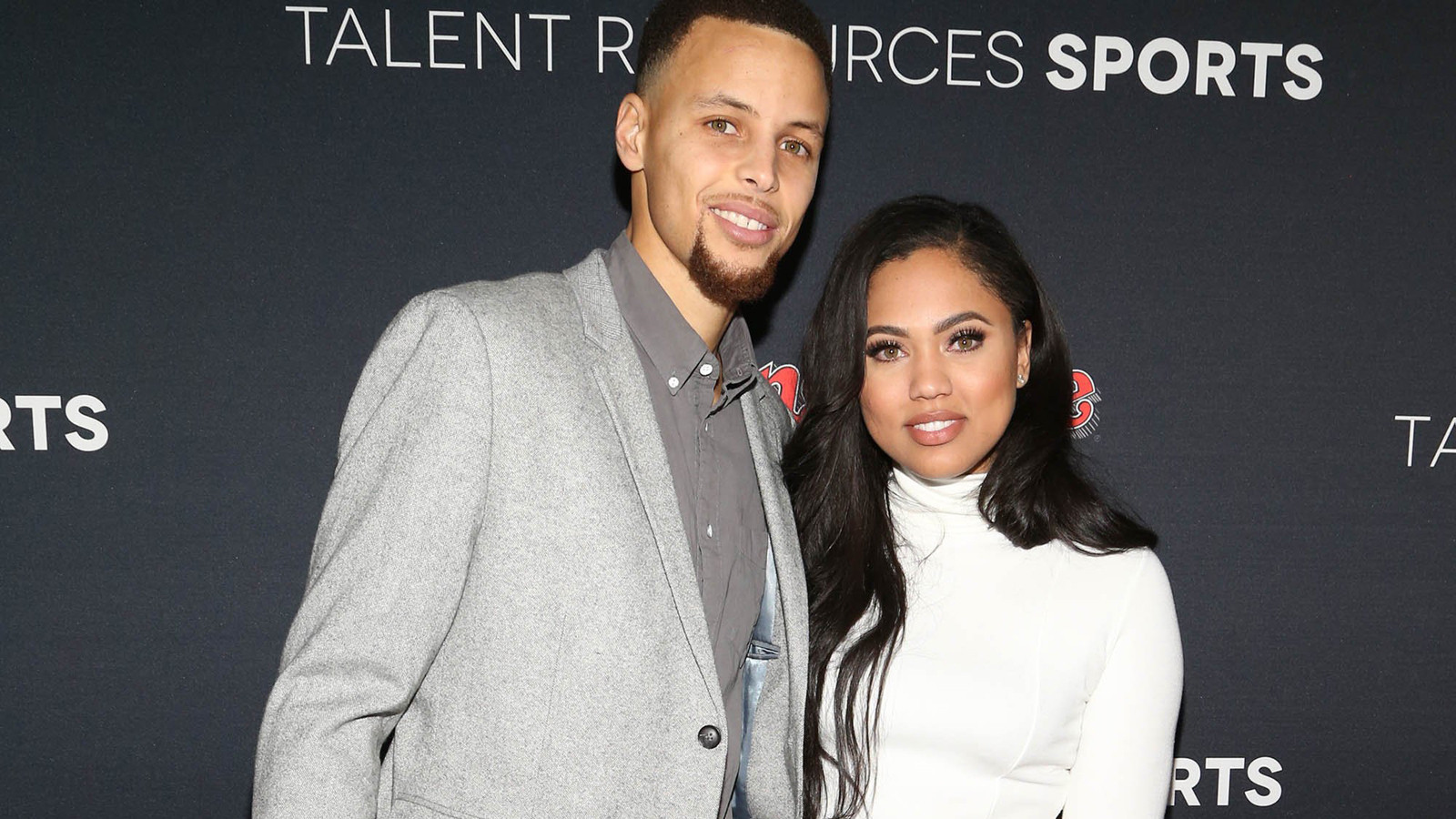 After a disappointing 115-101 loss to the Cleveland Cavaliers, Golden State fans and players have to be worried about becoming the first team to ever lose after being up 3-1. But one fan in particular is taking it to another level—Steph Curry's always outspoken wife Ayesha Curry.
Ayesha opened the night by complaining about the staff at Quicken's Arena keeping her and fellow Warriors' friends and family from entering the arena, posting this slew of Tweets prior to the game.
10 mins til game time and the whole teams families are sitting here on a bus. They won't let us in yet. Interesting tactic though. Again.

— Ayesha Curry (@ayeshacurry) June 17, 2016
Still waiting. At least 100 of us. ??

— Ayesha Curry (@ayeshacurry) June 17, 2016
They also wouldn't let our cousin into a casino today because he was wearing warriors gear. ??

— Ayesha Curry (@ayeshacurry) June 17, 2016
Views from the bus… pic.twitter.com/lHz3u4gAQA

— Ayesha Curry (@ayeshacurry) June 17, 2016
But Ayesha's conspiracy theory didn't end with Cleveland. After the embarrassing loss, Curry's wife went on to say that the entire NBA is in on it, accusing the NBA of rigging the finals series.
She later deleted the tweet, but not before it was retweeted nearly a hundred thousand times and screenshotted: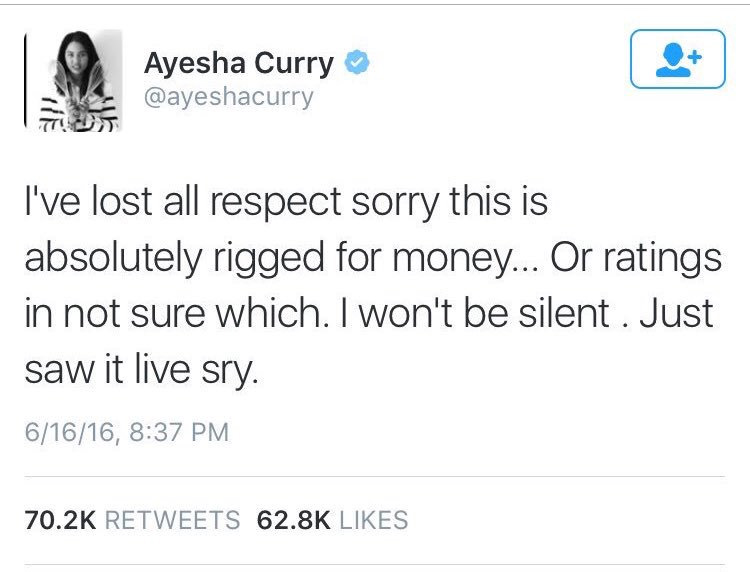 Accusing the host city of some home-cooking isn't unheard of. Hell, even Golden State fans found out where LeBron and the Cavs were staying and waited outside to let him know how they felt about Draymond Green getting suspended. But to go and say the entire NBA is pulling some sheisty 'ish is a bit too far, right?
Well, apparently not. Ayesha isn't the only one accusing the NBA of tampering with the finals to push the series to more games, and as a result, more money. Former NBA ref Tim Donaghy recently came out saying that the NBA suspended the Warriors' crucial forward, Draymond Green, to extend the series. He also added that he thinks the refs are told to favor the team that is down in the series to give them a better chance of winning. Is it a coincidence that Steph Curry was fouled out for the first time all season during game 6?
Now, Donaghy may not be the most reliable source, and Ayesha obviously has some bias, but rigging of NBA games is not a new theory. In fact, it's a widely circulated rumor. A simple Google search of "NBA is Rigged" brings up thousands of pages dedicated to the subject.
Regardless, or perhaps because of it, millions of viewers will now be tuning in this coming Sunday (Jun 19) for Game 7 to see if the Warriors can complete their record-breaking season with two back-to-back championships or if LeBron James can finally bring his hometown a much needed championship.
Be the first to receive breaking news alerts and more stories like this by subscribing to our mailing list.