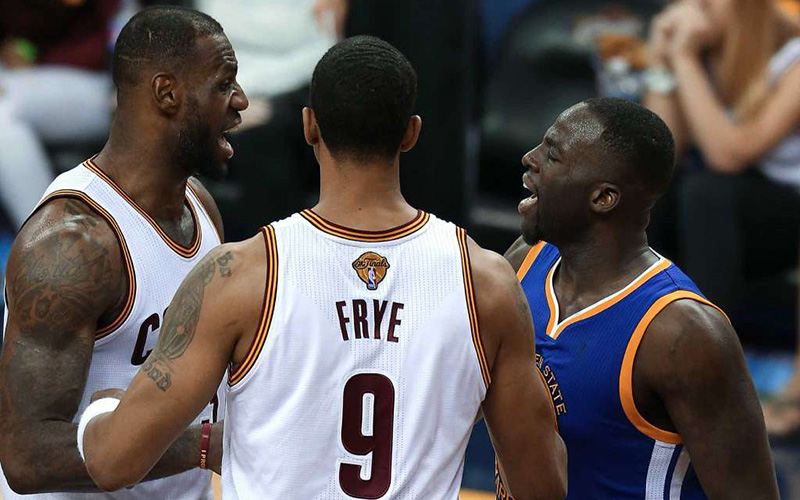 LeBron James completely lost his cool Friday night (Jun 10) as the Cleveland Cavaliers were being defeated by the Golden State Warriors in Game 4 of the 2016 NBA Finals on their own home court, of all places.
With just three minutes left in the final quarter of the game, which resulted in a 108-97 win for the Warriors, James and Draymond Green from Golden State got into two back-to-back altercations that could have easily turned into fights.
Green had fallen on the ground, and when James disrespectfully stepped over him (he basically tea-bagged the guy, smh), Green swung his arm, hitting James in the gonads. As Draymond got back up, LeBron quickly turned around and got all up in his face as play continued.
Not too long after that, the two players got into another physical altercation (in which LeBron grabbed Draymond on the back of the neck) while they both were attempting a rebound.
Players from both teams rushed in to separate James and Green, and each of them received personal fouls.
https://twitter.com/_MarcusD_/status/741474591349067776
Draymond then taunted LeBron by blowing into his fist like how LeBron does during games:
Two words: PET. TEE.
"I felt him step over me, and you're not just going to step over me like that," Green told CBS Sports after the game. "There's many routes you could take. Don't just step over me like that. So we had our words, and it is what it is. I don't care who you are, I'm not going to back down from you."
"We got tangled up; it is what it is," Green said in a separate post-game interview with ESPN Radio. "I've got mad respect for LeBron and what he's done. He's a competitor; I'm a competitor. It's Game 4 of the Finals. I don't think anyone expects anything less. And if they do, they're expecting the wrong thing."
LeBron reportedly got pissed off by what Draymond said to him right after the incident. Green declined to comment on what he said, saying that he wouldn't repeat what was said on the floor, but a source told ESPN that James was upset by Green calling him a "bitch."
"Draymond just said something that I don't agree with. I'm all cool with the competition. I'm all fine with that, but some of the words that came out of his mouth were a little bit overboard," James said. "Being a guy with pride, a guy with three kids and a family, things of that nature, some things just go overboard, and that's where he took it, and that was it."
Be the first to receive breaking news alerts and more stories like this by subscribing to our mailing list.