LeBron James and the Cleveland Cavaliers suffered their second straight loss against Steph Curry and the Golden State Warriors in Game 2 the 2016 NBA Finals Sunday night (Jun 4), with a final score of 77 to 110.
In Game 1, the final score was 89 (Cleveland) to 104 (Golden State). These are absolutely terrible final scores for the first two games, signaling that LeBron could lose his second straight Finals after leaving the Miami Heat in 2014.
And the way Cleveland has been playing so far, Golden State could very well sweep them and win Game 4 … IN CLEVELAND. The odds are already in the Warriors' favor to win the series, but if the Cavaliers want to at least make it past four games, they need to tighten up, and fast.
So what does LeBron and his team need to help propel them beyond their 2-game deficit?
According to Cleveland/LeBron fans and apologists on Twitter, the Cavaliers need help. Or, more specifically, "Lebron needs help."
I can already hear LeBron Apologists preparing their new excuse: HE JUST DOESN'T HAVE ENOUGH HELP OFF THE BENCH. Baloney.

— Skip Bayless (@RealSkipBayless) June 6, 2016
I used to hate seeing people say this .. But Lebron really needs some help.

— ?b/g/k (@BigGucciKrow) June 6, 2016
I'm thinking lebron needs more help

— PrinceHendrix (LightSwitch) (@thisisjt23) June 6, 2016
Lebron needs some help out there…looks extremely tired.

— Darien Anderson (@DarienAnderson0) June 6, 2016
Lebron needs a team who can help not a guard who doesn't know how to handle big games

— Bigwoody92 (@BigWoody92_) June 6, 2016
Lebron needs help man. He was dominant in Miami because he had a TEAM. Right now he has a roster of good players.

— Cramer (@KrispyKrame22) June 6, 2016
Somebody fr needs to step up and help Lebron he can't do this on his own!!!??

— Carson Deyo (@carson_deyo) June 6, 2016
https://twitter.com/SchloegelJake/status/739638914399363073
https://twitter.com/badthoughtsnow/status/739638602645176321
LeBron needs help… A lot of help.

— Christian Suarez (@ElGranCsua) June 6, 2016
LeBron looks like he wants to compete. I think he needs a little help!

— Cale Millis (@Cale_Millis) June 6, 2016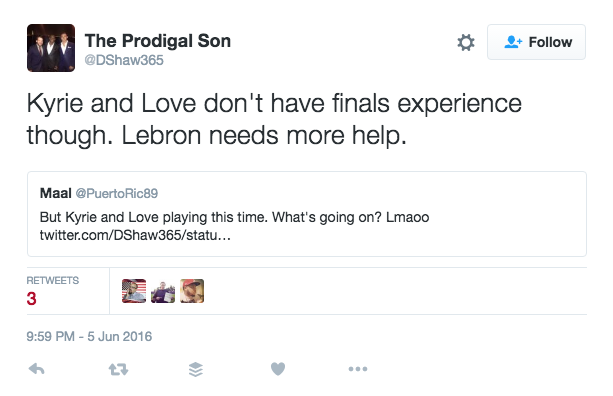 I'm sure LeBron will get roasted after this series is over, and he hasn't played great thus far, but he has absolutely no help anywhere.

— Kevin Burkhardt (@kevinburkhardt) June 6, 2016
People saying LeBron is getting no help which is true, but y'all told me this was his best supporting cast ever? Interesting

— James???? (@ScriptsByJames) June 6, 2016
LeBron doesn't need "Help" he needs his teammates to step up, so does he pic.twitter.com/VPQAOmFbZo

— Lion Woodz (@iAm_LionWoodz) June 6, 2016
When they win its because of Lebron , when they lose he doesn't have enough help. Weren't they 10-0 to start the playoffs ? Give me a break

— Alina (@alinathequeenx) June 6, 2016
"LeBron has the best help he ever had gotten in his career"

— Wade County (@DWadeisDMan) June 6, 2016
https://twitter.com/Zaukas/status/739633570801717249
LEBRON NEEDS HELP.
h/t: David D
Be the first to receive breaking news alerts and more stories like this by subscribing to our mailing list.