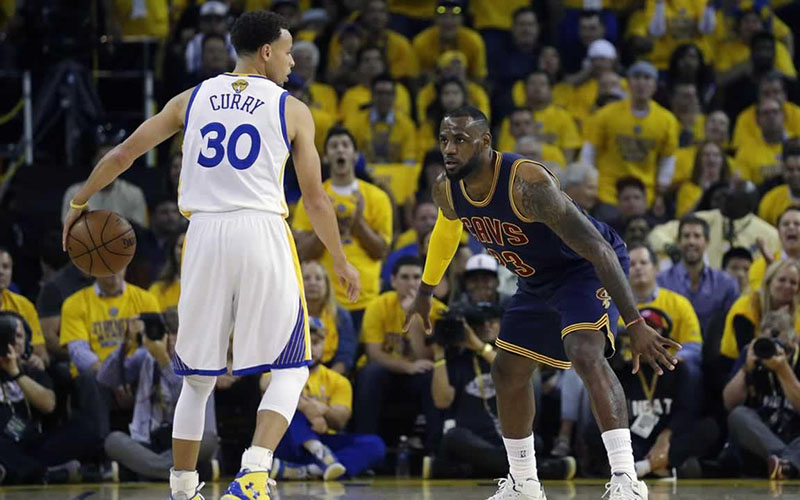 With the 2016 NBA Finals kicking off, basketball's two biggest stars go head-to-head on the world's biggest stage.
All eyes will be on the leaders of each team: LeBron James for the Cleveland Cavaliers and Steph Curry for the Golden State Warriors. A championship series is the pinnacle for any athlete, but the impact this series will have on these stars can't be ignored.
One crowned himself the king upon his entrance right out of high school. As a teenager, LeBron James garnered nation-wide attention for his athletic prowess in high school, earning him the number one pick in the 2003 NBA draft. And he hasn't disappointed.
While some may argue about his on and off the court personality, namely the infamous decision special where he announced to, "take (his) talents to South Beach," no one can deny that he is, in essence, a freak of nature.
Steph Curry made his splash as a baby-faced college player, leading the small college of Davidson on a deep run in the 2008 NCAA tournament. Few, if any, could predict the impact this long range shooter would have on the league, becoming the first player to ever unanimously win the NBA MVP for the 2015-2016 season and quickly taking over as the face of the NBA.
For both stars, this finals matchup will have a greater impact on their careers and their legacy than just earning another ring. It will determine how history views them for years to come.
For LeBron, who has always strove to be the greatest of all time (it's no coincidence he sports the famous number 23), it will affect the view that he is unable to win when it counts.
He has managed to make it to this stage six times before in his career, an impressive feat in its own right, especially considering his surrounding cast on a couple of them. But he has only won two.
Jordan went six-for-six. And in sports, the ultimate measure of greatness, whether right or wrong, is number of rings. The saying is heavy lies the crown, and for LeBron, most of that weight lies in those four losses.
Another loss this year will only serve to further the notion that, despite his undeniable skill, he can't close. His shortcomings are too big, and while he will always be remembered as a great player, will he be remembered as one of the greats?
He wants nothing more than to bring his hometown a championship ring – its first in any sport since 1964. The physical toll of fighting to earn a spot in the NBA Finals pales in comparison to the emotional impact of losing for the third time as a Cavalier.
For Steph, who hopes to lead his Warriors to back to back championships (the first back-to-back since James did it with the Heat), history is on the line. After winning 73 games in the regular season, topping Jordan's Bulls by one game, attention immediately turned to the playoffs.
Like James, the greatness that is Steph Curry can't be ignored. His name will fill the record books: most wins in a regular season, only unanimous MVP, most 3 pointers made in a single season.
But will any of that matter if he fails to win the championship? For Steph Curry and the Warriors, an NBA Finals victory is what separates them from being remembered as one of, if not the, best team in NBA history and being a trivia question.
Some may view this series as a simple rematch from last year's finals, but they would be ignoring the many storylines at play. LeBron James has a healthy surrounding cast with Kyrie Irving and Kevin Love, both of which were injured in last year's bout. The Warriors, while clearly the best team last year, didn't have the historic season that rests on their shoulders this year.
And more importantly, we have a battle between the old and the new face of the NBA. Steph Curry looks to cement his place as the number one player while James fights to reclaim his rightful place on the throne.
But there can be only one king.
Be the first to receive breaking news alerts and more stories like this by subscribing to our mailing list.