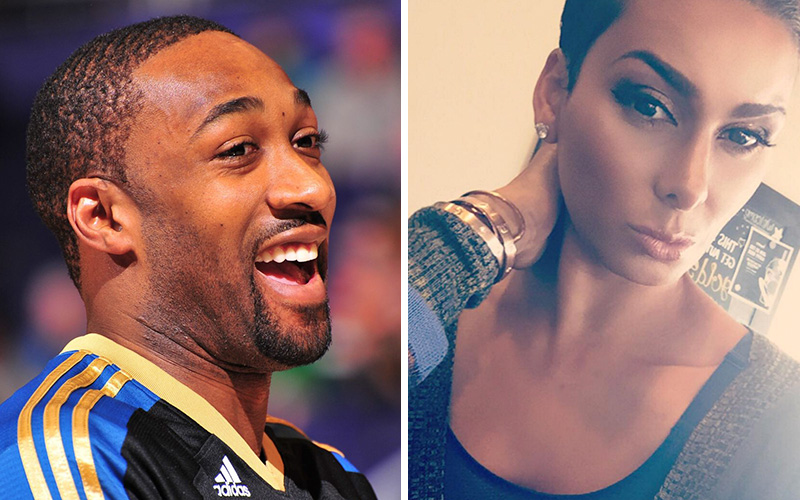 Baby mamas have not been having the best year ever when it comes to court proceedings.
First, Chris Brown's baby mama Nia Guzman had to take an L recently when a judge blocked her attempt at snagging sole custody of their daughter. And now, former Basketball Wives star Laura Govan has to take a MAJOR L as her ex-fiance Gilbert Arenas appears to have emerged victorious in his libel and defamation lawsuit against her.
To refresh your memory, last fall, when Gilbert and Laura broke up for the 60th time, Gilbert claimed that Laura leaked an email to him in which she alleged that he gave her STDs. Gilbert Arenas has gotten into hot water for his slick mouth, his edgy Instagram posts and crazy behavior, but one thing he won't suffer is a reputation as a dirty dick dog.
TMZ covered the lawsuit last year:
The ex-NBA superstar has filed a lawsuit against Laura Govan — claiming she concocted a diabolical scheme to humiliate him on a global scale by making everyone think he's rotten in the genitals, even though she knows he's not.

According to the docs, obtained by TMZ Sports, Arenas claims Govan got super bitter when he dumped her … so she decided to write up an email to him chock full of nasty allegations and then leak it to various gossip websites knowing they would run it.

In the email, Arenas claims Govan wrote, "When I left you it was because I couldn't take the STDs."
Gilbert is adamant in his lawsuit the accusation is FALSE — and "Govan knew it to be false when it was made."

Arenas is suing for libel — and demanding unspecified damages.
Well, the day of judgement has arrived and it appears Laura is going to owe her baby daddy some SERIOUS change. Something to tune of $3 million, if Gilbert's wacky and rude Instagram posts are to be believed.
UPDATE: Gilbert Arenas is obviously not about that life because he has since deleted his IG posts. But that's what The Shade Room is for!
For a slightly saner take on the situation, My News LA reports that after Govan struggled to secure appropriate and legitimate legal counsel to represent her in the case, the judge denied her motion to dismiss the lawsuit and instead granted Gilbert and his legal team with the go-ahead to proceed with seeking a default judgement against Govan.
Former NBA player Gilbert Arenas won a round in court when a judge refused to dismiss a defamation lawsuit accusing his ex- fiance of being behind Internet postings accusing him of infecting her with sexually transmitted diseases.

Los Angeles Superior Court Judge William Fahey also granted a motion by Arenas' attorneys allowing them to start the process to seek a default judgment against Laura Govan.
If Laura did indeed intentionally leak the email and make up the STD allegations, then she needs to admit when she's been defeated and call it a day. You can't blame her for trying to knock Gilbert's crazy ass down a peg or two, but you can't play with crazy people and not expect to suffer some serious losses now and again.
Laura, girl, I know that Next 15 check ain't nothin', so you better get you a spot back on VH1's Basketball Wives so you can raise some real funds and pay Gilbert his lawsuit money. Stop playin' out here in these streets and get to work, bitch!
Be the first to receive breaking news alerts and more stories like this by subscribing to our mailing list.