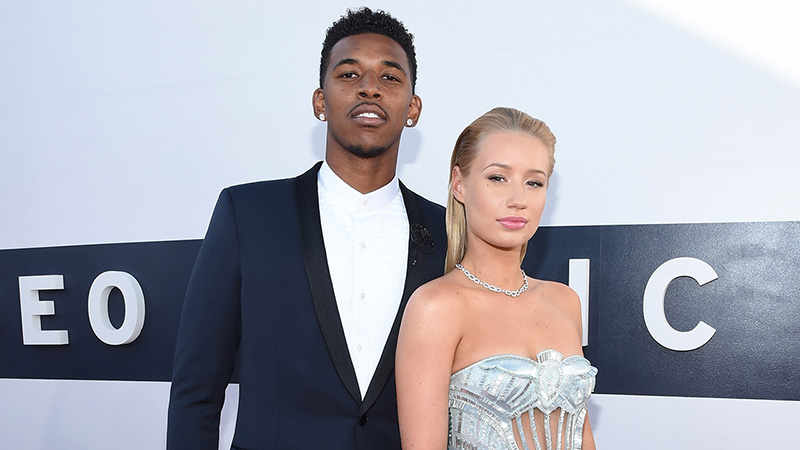 Poor Iggy Azalea. After watching her music career essentially go up in smoke (we'd all be better off if her dreadful collaboration with Britney Spears never happened), the one thing Iggy still had going for her was that she was slated to be boo'd up with her baller boyfriend, Los Angeles Lakers player Nick Young.
But Iggy's rosy romance with Young turned a few shades darker when he was formally accused of sexual harassment last month, according to Sports Illustrated. Then there was that time D'Angelo Russell exposed him on video admitting to cheating with a 19-year-old woman.
Iggy has remained largely quiet since the scandals broke, but now, in an interview with the Orlando & the Freakshow radio show, she lets it all hang out.
Asked how she felt about athletes cheating on their wives and girlfriends, regarding her own personal situation, Iggy said:
"I'm not cool with it. Like, you will have half a penis. I already said, I was like, one more video, just one more thing, and you will lose a quarter of your meat."
You hear that, Nick? Get caught cheating ONE MORE TIME and you will lose 25% of your penis.
Hey, Iggy, How bout instead of threatening violence and harm to your lover's genitals, you just respect yourself and walk away from a situation that ain't right for you?
Threatening to get all Lorena Bobbitt on a man, even one that's cheating on you, just makes YOU look crazy and honestly, it ensures that your crazy ass will get swiped to the left once you go looking for your next cuddle buddy. Cause no matter how phat that ass is, no man is willing to risk the health, safety and functionality of his member.
The best thing Iggy could do is parlay this drama into a role on VH1's Basketball Wives. Cause her music career is deader than Bow Wow's.
Be the first to receive breaking news alerts and more stories like this by subscribing to our mailing list.