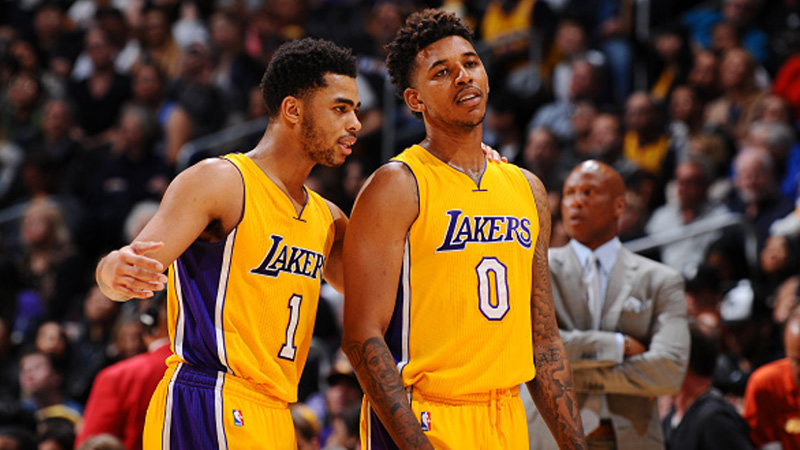 Los Angeles Lakers star Nick Young is in hot water with his fiance Iggy Azalea, and it's all his teammate D'Angelo Russell's fault.
Last week, a video of Young admitting to cheating on Iggy with a 19-year-old woman last summer surfaced on the web.
Come to find out the clip was secretly taped by rookie point guard D'Angelo Russell (for whatever reason) and it shows Young laying in his bed on a laptop telling Russell about the sexual encounter.
Russell also asks Young if he ever smashed Amber Rose, to which Young responds, "Nah, she knows my girl."
https://twitter.com/Fameolous/status/712976966257737730
Although Russell has denied leaking the video (he says he was "hacked," lol), he still broke guy code by secretly recording it in the first place and can kiss the ability of being trusted by any of the homies ever again goodbye.
Things also aren't looking so good for him in the locker room either. According to ESPN, the leaked video has caused a strain between Russell and the rest of his teammates, who refuse to talk or even sit by him during team meetings.
"It's bad. It's about as bad as it can get. There were trust issues already. Now there's no trust," team source told ESPN.com.
It also doesn't help the fact that the Lakers tied their worse loss in franchise history Monday night (Mar 28) after being beat by the Utah Jazz 123 to 75.
For what it's worth, Iggy Azalea still supports D'Angelo and even tweeted she liked his video.
hmmm i see D Angelo Russell is trending… I actually liked his film. Thanks bro.

— IGGY AZALEA (@IGGYAZALEA) March 30, 2016
As for Nick, she's not very happy with right now.
Sources tell TMZ, that the couple's engagement is in jeopardy and Nick is desperately trying to save his relationship with Iggy.
Just days ago, Nick kinda sorta tweeted about the whole situation and it's clear he's pissed about it.
I dnt play them games

— Nick Young (@NickSwagyPYoung) March 25, 2016
You dnt wanna be me in a relationship https://t.co/KX3bqCJBcU

— Nick Young (@NickSwagyPYoung) March 26, 2016
What's going on in 2016

— Nick Young (@NickSwagyPYoung) March 28, 2016
DR only had this to say about the matter:
https://twitter.com/Dloading/status/713079228405719040?lang=en
TMZ is also reporting that Nick and others believe that a third party leaked the video and DR had nothing to do with that part.
We're told everyone involved believes the video was obtained and leaked by a 3rd party — not Russell.

That being said, we're told the tension between D.R. and Young is thick — but a Lakers honcho is planning to sit them down to hash this thing out man to man as soon as possible.

The Lakers want them to bury the hatchet so they can move forward.

And then there's this … we're told Nick has already contacted his lawyers to weigh his legal options — but it's unclear if he's planning to go after D'Angelo or whoever posted the video.
Between Kyrie Irving and Nick Young, the NBA has been taking some major L's over the past week or so.
Be the first to receive breaking news alerts and more stories like this by subscribing to our mailing list.