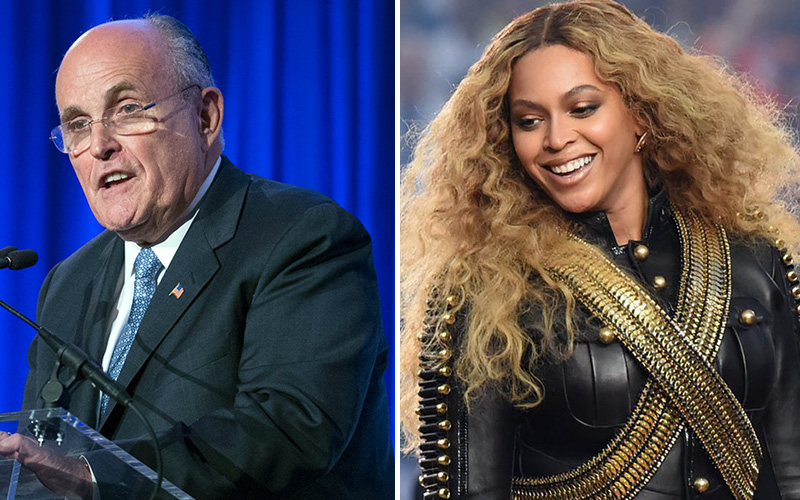 Beyoncé may have received universal critical acclaim for her Super Bowl 50 Halftime show performance Sunday night (Feb 7), but not everyone was a fan, especially former New York mayor Rudy Giuliani.
Giuliani appeared on Fox & Friends the following Monday morning, and when the topic of discussion fell on Beyoncé's show-stopping Super Bowl performance, Giuliani slammed the singer for what he called an "attack" on the police.
Beyoncé's new single "Formation," which was released along with a video the day before the Super Bowl, has already drawn ire for its controversial message.
Among many other things, the video shows a sinking police cruiser, a boy in a black hoodie dancing in front of police officers who eventually raise their hands to him, and a wall with the words "Stop Shooting Us" spray-painted on it
Her performance Sunday during Super Bowl 50 featured an all-Black female dance troupe dressed in black leather and sporting afros and berets. It was a nod to the Black Panthers movement and a salute to Black Lives Matter.
Beyoncé's ENTIRE #SB50 halftime performance.https://t.co/rPxwVNpFEV

— Complex (@Complex) February 8, 2016
Beyoncé proudly sang the words, "My daddy Alabama, momma Louisiana, you mix that negro with that Creole make a Texas Bama" and "I like my baby heir with baby hair and afros, I like my negro nose with Jackson Five nostrils," and some white people like Rudy Giuliani just could not deal.
"I couldn't really make out what Beyonce was saying," Fox News host Brian Kilmeade remarked. "But at the end, we find out Beyonce dressed up in a tribute to the Black Panthers, went to a Malcolm X formation. And the song, the lyrics, which I couldn't make out a syllable, were basically telling cops to stop shooting blacks!"
Giuliani was also very critical of Beyoncé's "Black Power" performance, which he called "outrageous" and a "platform to attack police officers."
"I don't even know why we have this," he said, regarding the Super Bowl Halftime show in general. "This is football not Hollywood."
He continued:
"I thought it was really outrageous that she used it as a platform to attack police officers—the people who protect her and protect us and keep us alive, and what we should be doing in the African American community and all communities is build up respect for police officers.

"And focus on the fact that when something does go wrong, OK, well, we'll work on that. But the vast majority of police officers risk their lives to keep us safe.

"This is a political position and she's probably going to take advantage of it. You're talking to middle America when you have the Super Bowl. So if you're going to have entertainment, let's have decent, wholesome entertainment. And not use it as a platform to attack the people who put their lives at risk just to save us."
Ha! Whatever, whitey. THIS ISN'T FOR YOU!
Watch a bunch of white people who don't get it talk about Beyoncé's "distasteful Black pride" below:
h/t: Gawker (via Raw Story)
Be the first to receive breaking news alerts and more stories like this by subscribing to our mailing list.