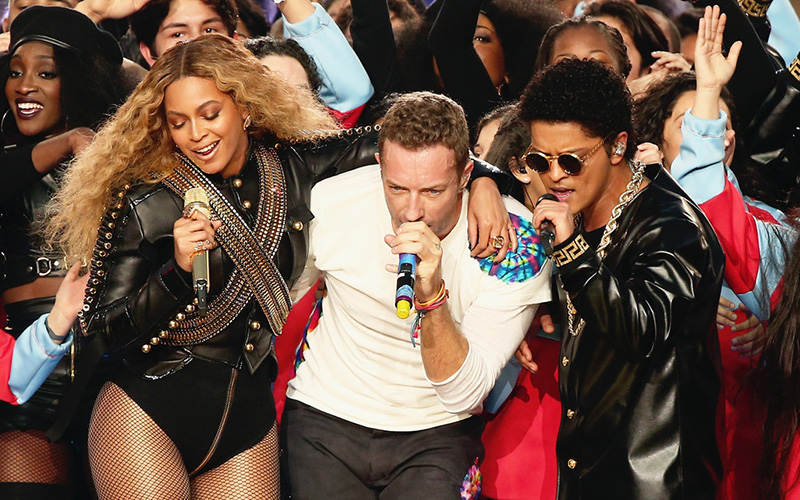 Beyoncé and Bruno Mars put on one hell of a halftime show this year during Super Bowl 50. Oh yeah, and Coldplay did their thing too as the opening act.
Though Chris Martin and his band were the headliners, the show really belonged to Queen B and Bruno, who have both performed on the big stage in recent years (Beyoncé headlined the halftime show in 2013 and Mars followed in 2014).
WATCH HERE:
Coldplay's performance medley kicked off with a rendition of "Viva La Vida," followed by "Paradise" and "Adventure of a Lifetime" as a crowd dressed in all black danced along the edge of the stage. A crew of dancers on the field with colorful umbrella displays gave fans all the way at the top of the stadium (and those of us watching at home) something nice to look at.
The show then shifted to the first guest star, Bruno Mars, who, dressed in all black everything and gold chains, performed his Grammy Award nominated hit single with Mark Ronson, "Uptown Funk."
Then came Beyoncé aka SLAYONCÉ, who literally took over the field with the very first live televised performance of "Formation," the brand new single she surprised us with the day before the game.
She was backed by an all-black group of female dancers dressed in attire paying homage to the Black Panther Party as she slayed the field before heading to center stage at the 50-yard line for an epic dance battle with Bruno Mars.
We almost died when Bruno busted a move or two to "Crazy In Love" and Beyoncé broke it down for "Uptown Funk."
All three performers then joined together on stage briefly for a mashup of songs from previous halftime shows (including "Purple Rain," "Independent Women" and "Just the Way You Are") celebrating the Super Bowl's 50th anniversary. The trio concluded the nearly 13-minute set with a group performance of Coldplay's "Up&Up."
Be the first to receive breaking news alerts and more stories like this by subscribing to our mailing list.