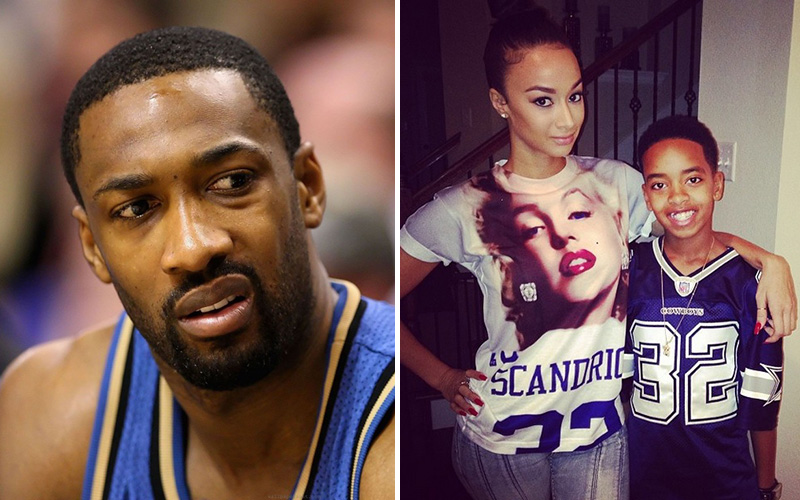 For reasons unbeknown to pretty much everybody, Draya Michele has decided to keep the identity of the father of her 11-year-old son Kniko a secret, and to this day, she's managed to do so … but that hasn't stopped folks from coming up with theory after theory.
One of the most popular theories is that NBA player Gilbert Arenas is Kniko's secret father (even Google is in on it!), but after years of speculation, Arenas — who has four children with former "Basketball Wives L.A." star Laura Govan — has finally come forward to let the people know the truth.
And the truth is just like how that famous Michael Jackson song goes: THE KID IS NOT MY SON!
In an Instagram post that has sine been deleted, Gilbert explained: "Draya's son was at least four years old when I met her and we were [cool] friends."
Arenas also gave some insight into why Draya and his ex-fiancée/baby mama Laura Govan had beef while they were on BBWLA together.
Apparently, a gag order had been put in place preventing Govan from mentioning his name on the show. While Gilbert and Draya were dating, he volunteered to help her move, and in return, she agreed not to mention his name either.
"Draya was [cast], but since the show wasn't paying her to move to Cali to shoot and live, we came to an agreement," he shared. "This is why no one understood who Draya was with to be on the show…"
If you'll recall, at the beginning of BBWLA season one, Laura Govan talked about being abandoned by Arenas (without mentioning his name of course, but we all knew who she was talking about) and forced to live in a one-bedroom apartment with all four of their children.
So if this man was going around "helping" other women move to L.A. instead of the mother of his children, that would explain why Laura was so furious with Draya. Who wouldn't be?!?
Arenas also threw a little shade at Govan in his IG post by applauding Draya for making a name for herself without using his or that of any other athlete.
"I thank her for making a name for herself and not using my name to pogo her career," he wrote.
Now, you might be asking yourself, "Why is Gilbert Arenas speaking out about this particular issue right now?"
Well, he explained that too: "Her son is 11 … my kids are 9,8,5,4, and they can access the Internet and sh*t like this floating around can have kids confused and it needed to stop."
Read the full post (grammatical errors included) below:
THEY TOOK the bet NO take backs!!!..so I'll end this quick, from the Internet draya son was born 11 yrs ago that should be around 2003-4.. my teammate @dsteve92 [Deshawn Stevenson] introduced me too draya feb 4th 2008 while we were playing #76ers I took my (rook) @swaggyp1 [Nick Young] with me becuz i forced him to go with me everywhere and be my slave….BUT that means draya son was atleast 4 years old when I met her,me and her were coo friends…the summer of 2010 I was getting a gag order on #laura so she wouldn't waste her whole time running my name in the dirt with lies on #bbwla…Draya was casted but since the show wasn't paying her to move to Cali to shoot and live we came to an agreement if I help *u move too persue ur career in hollywood u wouldn't talk about me on that show* adding to #laurasMediablasting becuz at this point in my life I had the shaq rumor, gun charge, probation, got served on a nba court then blasted as a deadbeat father all less the 15 month…so with them filming during the summer once the new season started that show would be airing during basketball season and I'll be looking at another year of a BLACK cloud over my name so I decided to put a gag order on the whole damn show so if my name was mentioned in shooting they couldn't air it……So this is why know one understood who draya was with too be on that show becuz the show was gagged and…….I thx her for making a name for herself and not uses my name to pogo her career when she was doing interviews#respect ..I wouldn't have never entertained this story but her son is 11 ..my kids are 9,8,5,4 and they can acces the Internet and shit like this floating around can have kids confused and it needed to stop
SMDMH… A hot mess all around!!!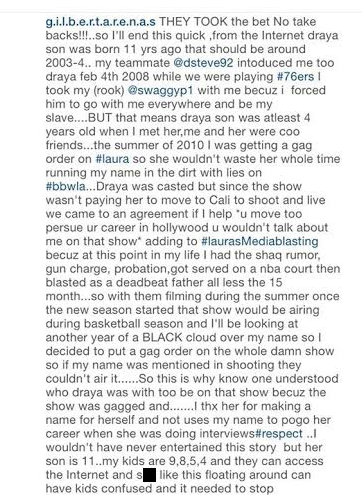 Be the first to receive breaking news alerts and more stories like this by subscribing to our mailing list.