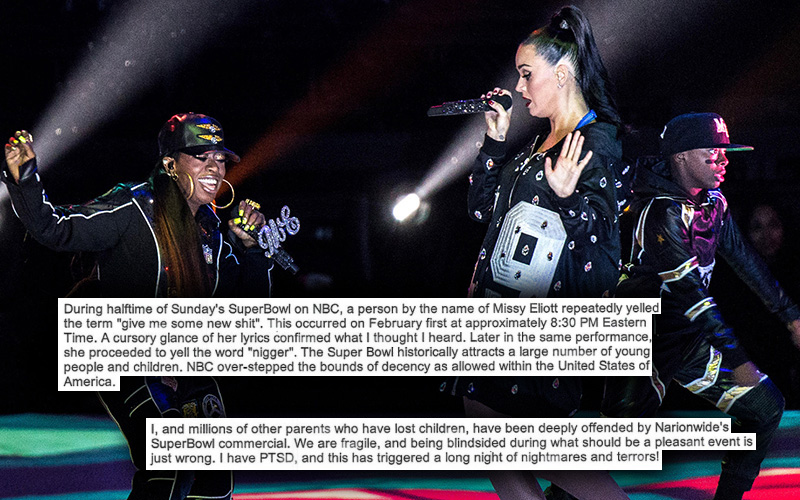 Every year after the Super Bowl airs, dozens (sometimes hundreds) of complaints from viewers who can't handle the "madness" of the Halftime show or some of the "inappropriate" commercials that air in between plays during the game are sent to the FCC for one reason or another.
This year, there were 34 complaints about the Super Bowl, and not surprisingly, none of the complaints had anything to do with the actual game itself.
The complaints ranged from disgust toward Katy Perry's halftime show (featuring Missy Elliott and Lenny Kravitz) to offense at commercials that were deemed "indecent" or "hyper-sexual." And of course, folks were downright angry over that infamous Nationwide "dead kid" ad.
We don't know what's worse (or funnier), the puritanical nature of such grievances, or the fact that most of these people seem to have no idea what grammar, spelling and/or punctuation are.
This viewer is angry about "a person by the name of Missy Elliott" who used profane lyrics in her performance. And they provided a couple "NSFW" links from lyrics sites to prove it.
During halftime of Sunday's SuperBowl on NBC, a person by the name of Missy Elliott repeatedly yelled the term "give me some new sh*t." This occurred on February first at approximately 8:30 PM Eastern Time. A cursory glance of her lyrics confirmed what I thought I heard. Later in the same performance, she proceeded to yell the word "n****r." The Super Bowl historically attracts a large number of young people and children. NBC over-stepped the bounds of decency as allowed with the United States of America. A later song by her featured Ms Elliott yelling about "big c*ck," "p*ssy," and "shaving my chocha…Has America lost all sence of decency?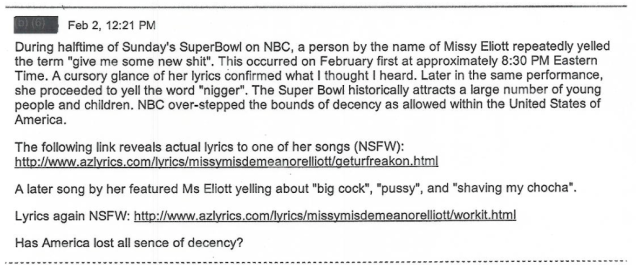 This viewer doesn't think girls should kiss girls and actually like it:
Show obviously directed at children contained lyrics that can only be called disgusting by anyone of normal sensibilities. A massive fine is in order to prevent viewing public from ever seeing a young female singing on a family veiwing venue "I kissed a girl and I liked it". Action must be taken to correct this in the future! DO SO

This viewer obviously did not enjoy Missy Elliott's guest appearance
When Missy Elliot sang for the 2015 superbowl halftime show, the words to the songs she was singing were extremely inappropriate!!

I honestly have no idea what's going on here. Also, who is Tom?
Tom this SuperBowl halftime show is not legal. Sexual harassment. Undiagnosed insanity.
Katy Perry is…
Lenny Kravitz is…

This viewer is mad about having to punish their daughters for using the "work Bitch." Whatever that means.
The work Bitch being used during a family broadcast like the superowl is profane and should not be allowed. After the commercial my 8 and 10 year old daughters both repeated the word and had to be punished which really took away from our superbowl experience.

Super Bowl experience = RUINED.
Moving on…
This viewer just absolutely cannot believe how companies are allowed to display "soft porn" on TV:
The Victoria Secret Superbowl ad was completely inappropriate and indecent given the large number of children watching the game. Girls sprawled in chairs with their legs spread open and breasts bulging out of their bras is absolutely inappropriate to hold up in front of grade school children and families. i cannot believe how companies are allowed to display soft pornography on public television. I would like a response to this complaint and how i might pursue it further.

And these people are all types of torn up over that Nationwide dead kid ad, which, I admit, was pretty awful:
The nationwide Superbowl commercial had inappropriate content related to life and death for family viewing. Their commercial cause my niece to get upset and ask questions related to why did the child in the commercial die. There was no warning that sensitive content for children was forthcoming. My sister had to calm the child down on what would be an otherwise fun filled family viewing experience with the other advertisers. This advertisement never should have been allowed to be shown without advance notice given to parents. The company sold their soul to sell insurance on the guise of protecting kids and stole their innocence.

I, and millions of other parents who have lost children, have been deeply offended by Nationwide's SuperBowl commercial. We are fragile, and being blindsided during what should be a pleasant event is just wrong. I have PTSD, and this has triggered a long night of nightmares and terrors!

Read even more complaints over at Deadspin!
Be the first to receive breaking news alerts and more stories like this by subscribing to our mailing list.