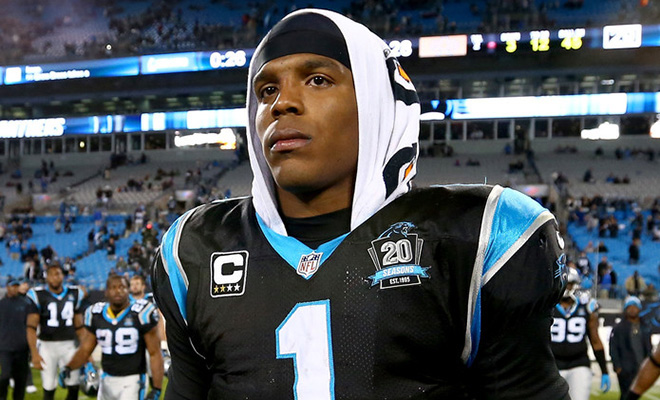 NFL star Cam Newton had to be rushed to the hospital today after he was involved in a major car accident in Charlotte, NC that caused his vehicle to flip over.
According to officials, Cam's truck and a sedan collided on a bridge fright in front of Bank of America Stadium where the Carolina Panthers play.
#BREAKING: @WBTV_News is working to get more answers on the wreck involving Panthers quarterback Cam Newton. pic.twitter.com/FJ6uidwXIC

— Amanda Bazemore (@AmandaBazemore) December 9, 2014
UPDATE: @CameronNewton has two transverse process fractures in lower back http://t.co/cP2QLZtxQa pic.twitter.com/kZucrjf4xn

— NFL (@NFL) December 9, 2014
The Panthers QB's truck reportedly flipped over and he was loaded onto a stretcher. A photo posted to Twitter shows Newton conscious and smiling right before he was taken away by an ambulance.
After he was treated at the hospital, it was revealed Cam had suffered two "transverse fractures" in his lower back.
Cam Newton is conscious and smiling after crash in uptown Charlotte. pic.twitter.com/tx6R9qisSh

— The Charlotte Observer (@theobserver) December 9, 2014
Via TMZ Sports:
A witness at the scene tells TMZ Sports … Newton was "t-boned" from the left side, swerved, and then flipped over. The witness says he observed Cam crawling out of the back window of the truck … he walked over to the curb and laid down.

The witness says, "Cam didn't blow any lights or stop signs" and believes Cam had the right of way through the intersection where he was struck.
A spokesman for the Panthers said Newton was in far condition and would remain in the hospital overnight for observation. Asked if Newton's back injury would require surgery, Panthers spokesman Charlie Dayton said, "I did not get that indication."
Panthers team owner Jerry Richardson went to the hospital to visit Cam, but he didn't get to speak with him because the quarterback was undergoing tests.
Dayton said he hadn't seen or spoken with Newton either, and he declined to speculate about whether Cam's back injury would make him miss any playing time.
"Right now, we've thought about Cam's well being and hopefully the well being of someone else in the other car who was injured," Dayton said. "Just hope that they're all OK. We haven't gone there."
Since the crash, Newton has received an outpouring of support from other NFL players:
Praying for my bro Cam! ? Hope he's ok

— Michael Vick (@MichaelVick) December 9, 2014
Praying for you Cam that you heal up quickly boss!

— Russell Wilson (@DangeRussWilson) December 9, 2014
Prayers for brother Cam Newton, hoping all is well…

— Chad Johnson (@ochocinco) December 9, 2014
Be the first to receive breaking news alerts and more stories like this by subscribing to our mailing list.