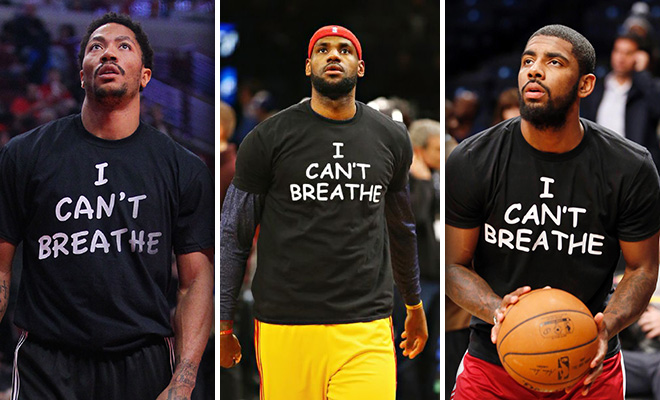 NBA star Derrick Rose started something when the Chicago Bulls player wore an all-black t-shirt bearing the words "I Can't Breathe" during pregame warm-ups Saturday night (Dec 6) in protest of the Eric Garner decision.
Eric Garner is a man from New York who died back in July after an NYPD officer placed him in a chokehold while he was being arrested for selling loose, untaxed cigarettes. A video recording of the arrest shows Garner gasping for air as he says "I can't breath" multiple times before succumbing to the pressure being placed on his neck.
Last Wednesday, a New York grand jury decided against indicting the cop responsible for Garner's death and thousands around the country have publicly protested the decision, including professional athletes.
"I'm just happy that people paid attention to it," Derrick Rose told reporters after Saturday's game against the Golden State Warriors (which the Bulls lost 112-102). "I think it touched a lot of people because I grew up in an impoverished area like that, and sometimes [situations like that] happen a lot of times. It just touched a lot of people, and I just wanted to make sure that I got my point across."
He continued:
"I wouldn't say I'm going to do it every time, it's just something that I just felt … Usually I stay out of politics and police brutality. I'm not saying all cops are bad or anything, I'm just saying what happened them days is uncalled for, and I think that hurt a lot of people. It hurt the nation.

"But my biggest concern is the kids. I know what they're thinking right now. I was one of them kids. When you live in an area like that and you don't got any hope, and police are treating you any way. I'm not saying all police [officers] are treating kids bad, but when you live in an area like that, it gives you another reason to be bad. My biggest concern are the kids and making sure that my son grows up in a safe environment.

"That's one of the reasons why I wore the shirt. I'm a parent now. Probably two years ago, it probably would have been different. I probably would not have worn the shirt. But now I'm a dad, it just changed my outlook on life, period. I don't want my son growing up being scared of the police or even having that thought on his mind that something like that could happen.

"I have a cousin. That easily could have been him, or it easily could have been one of our relatives. It's sad that people lost their lives over that."
Following Derrick Rose's precedent, LeBron James warmed up for last night's Cavaliers-Nets game in Brooklyn wearing an all-black "I Can't Breathe" tee similar to Rose's.
LeBron James, Brooklyn, NY, USA, Dec. 8, 2014. pic.twitter.com/tulJxoDe1G

— Jason Gay (@jasongay) December 9, 2014
Other NBA stars wearing the shirts reportedly included James' teammate Kyrie Irving, as well as Nets players Kevin Garnett, Deron Williams, Jarrett Jack and Alan Anderson (pictured below with Jay Z).
Brooklyn 5 pic.twitter.com/hLSPUSM530

— NetsDaily.com (@NetsDaily) December 9, 2014
"It's not a Cavs thing," James said before the game when he was asked about the shirt. "It's a worldly thing … It's just for us to make a [statement] to understand what we're going through as a society."
He continued, "I've been quoted over and over about what's going on as far as it's more of a notion to the family, more than anything. Obviously, as a society we have to do better. We have to be better for one another. It doesn't matter what race you are. It's more of a shout out to the family more than anything, because they're the ones that should be getting all the energy and effort."
Rose also gave his opinion on LBJ wearing the shirt: "It means a lot just from the NBA, period … Especially for someone like him to have something to say about it or do something afterwards. He's a huge figure, and he grew up in a neighborhood like that. It means a lot for a star like that to come out and say something, especially a megastar. So I'm happy about that."
Be the first to receive breaking news alerts and more stories like this by subscribing to our mailing list.