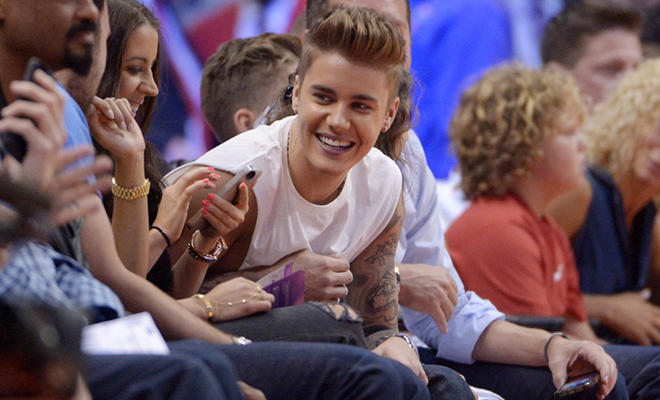 Justin Bieber gets booed in his own home country, so it's no surprise that he would get booed here in the United States too.
On Mother's Day last Sunday (May 11), the Biebs was in attendance during Game 4 of the Los Angeles Clippers vs. Oklahoma City Thunder 2014 NBA Playoffs series (with his mom, of course), and when that face of his everyone hates was shown on the Staple Center's jumbotron during the game, the crowd erupted in boos.
"The entire placed booed him when Staples Center cameras put him on the jumbotron," a source told E! News.
To be fair, the screen DID say to make some "NOISE" though we're sure that's not the type of noise they were talking about.
But despite the haters, the 20-year-old Pop star and his mother Patti Mallette seemed to have a good time, especially judging by this photo the Biebs shared on Twitter:
Took my mom to the game.. She's more focussed on the food :p http://t.co/weD5DJ1ziM #selfie pic.twitter.com/Sujc3AjYMg

— Justin Bieber (@justinbieber) May 11, 2014
The "Confident" singer also posed for pics with his big homie Floyd Mayweather.
Trophies http://t.co/73WqxYfVLi #selfie pic.twitter.com/yfuSgql3WA

— Justin Bieber (@justinbieber) May 11, 2014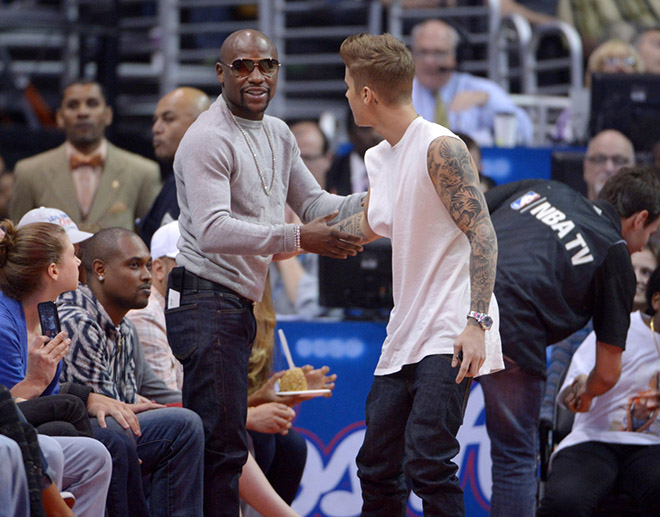 Earlier in the day, JB tweeted his love for his mom:
Happy Mother's Day to my amazing mom @pattiemallette. I love u with all my heart!! #HonorThyMother #HappyMothersDay pic.twitter.com/seHWxuy42H

— Justin Bieber (@justinbieber) May 11, 2014
FYI: For those keeping score … the Clippers beat the Thunder 101-99 that game, however, they lost the series Thursday in Los Angeles in Game 6 with a finale score of 104 to 98. OKC will go on to play the San Antonio Spurs Sunday night in Texas.
Take a look at a few photos from Sunday's game here:
Click Here to check out more pics at The Daily Mail!
Be the first to receive breaking news alerts and more stories like this by subscribing to our mailing list.