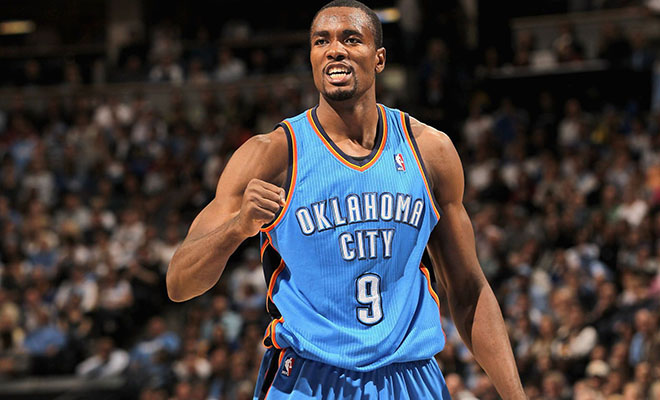 Bad news for OKC fans!
Power forward Serge Ibaka, who just so happens to be one of the Oklahoma City Thunder's best scorers and the team's key defensive force, will miss the remainder of the 2014 NBA playoffs due to a serious calf injury.
The team made the announcement Friday night (May 16) after he was hurt in OKC's Game 6 road win against the L.A. Clippers, which put the team in the Western Conference finals against the San Antonio Spurs. If they beat the Spurs (which they probably won't…) they'll go on to play the Miami Heat in the Finals.
But, as USA Today Sports points out, the Thunder "will have to take on the defending West champion Spurs and future Hall of Famer Tim Duncan without their best shot-blocker and rebounder," which is going to be pret-ty tough.
More via USA Today:
Thunder general manager Sam Presti said in a news conference call that the injury is a Grade 2 strain. He was not sure when Ibaka would be healthy enough to play but said the expectation is that it won't be in the next month, putting him out for the rest of the playoffs.

"The calf is a really important mechanical function for any athlete, regardless of their style of play," Presti said. "The recovery is lengthy because re-injury is so likely. … The timing of when it occurred is an unfortunate part to this."

Veteran power forward Nick Collison and rookie center Steven Adams likely will pick up some of Ibaka's minutes, but expect the Thunder to often go small with NBA MVP Kevin Durant sliding down to power forward. Durant and Ibaka often each slid down in smaller units, but now Kendrick Perkins or Adams will be counted on to take the center role in those lineups.

"Serge obviously being out of the lineup is going to have an impact on the team," Presti said. "I don't think it's going to impact one person. One of the ways we have to honor the circumstances is being adaptable and growing and coming together as we've done in the past.

"We're going to need everybody."

Last season, the Thunder's playoff run was cut short in the second round by the Memphis Grizzlies because of a knee injury to point guard Russell Westbrook.

Ibaka is averaging 12.2 points (on 61.6% shooting from the field), 7.3 rebounds and 2.2 blocks in 13 postseason games. During the 2013-14 regular season, Ibaka notched career-highs with 15.1 points and 8.8 rebounds a game while leading the league in total blocks for the fourth consecutive season with 219.
[USA Today Sports]
Be the first to receive breaking news alerts and more stories like this by subscribing to our mailing list.