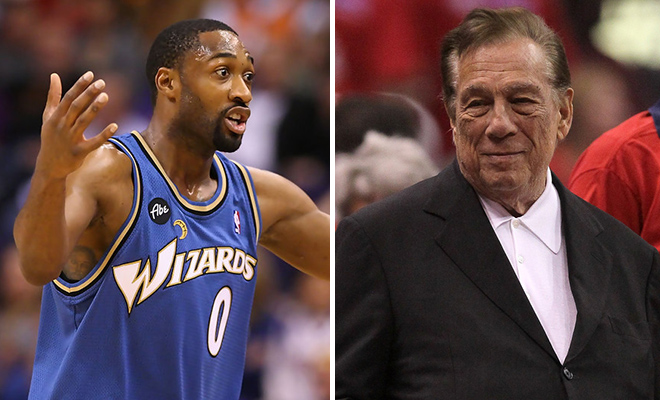 Los Angeles Clippers coach Doc Rivers said he doesn't believe maligned team owner Donald Sterling's so-called "apology" isn't much of an apology at all, but apparently, former NBA All-Star Gilbert Arenas is more on the forgiving side.
Arenas — who now plays in the Chinese Basketball Association with the Shanghai Sharks — wrote on Instagram Tuesday (May 13) that he accepts Sterling's non-apology, saying "forgiveness will destroy racism."
He has since deleted the message (likely after realizing how stupid it was, or at the advice of someone with some damn sense), but of course someone has the screenshot:
"I'll be the first to accept ur apology. as a man who's made a mistake or two in life I know how hard it is to look at your self in the mirror when you let so many ppl down but for anybody who can't and won't accept his apology u need to look in the mirror because were not perfect. forgiveness will destroy racism not more hatred."
Gilbert Arenas accepts Donald Sterling's apology, says he understands what's it like to let many people down. pic.twitter.com/JntA0GGwit

— NBA Legion (@MySportsLegion) May 12, 2014
32-year-old Gilbert Arenas is a three-time NBA All-Star and played in the league from 2001 until 2012.
Laura Govan's baby daddy was suspended for most of the 2009-10 season due to handgun violations after he admitted to storing unloaded firearms in his locker at the Verizon Center in Washington, D.C. in December 2009.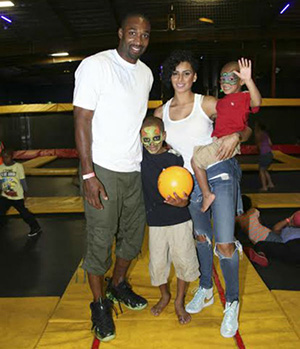 The following January, Arenas was charged for that incident, as well as another, in which he and a teammate reportedly had unloaded guns in the Wizards' locker room during an argument on Christmas Eve about gambling debts, and he later pleaded guilty to a felony charge of carrying an unlicensed pistol outside a home or business.
He was also suspended from the NBA indefinitely without pay and re-joined the Wizards for the 2010-11 season before he was traded to the Orlando Magic in December 2010, and then the Memphis Grizzlies in March 2012.
He's been playing in Shanghai since November 2012 and was most recently spotted in California last month at a joint birthday party for his two sons with former "Basketball Wives: L.A." star Laura Govan: 7-year-old Alijah Arenas and 3-year-old Aloni.
h/t: FTW; pic with Laura & his boys via Necole Bitchie
Be the first to receive breaking news alerts and more stories like this by subscribing to our mailing list.