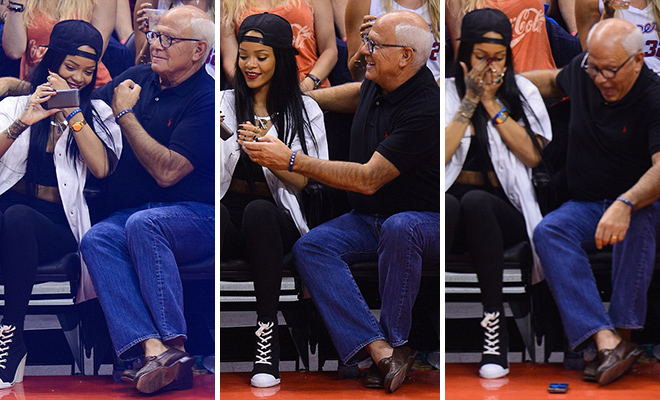 Rihanna hasn't had the best luck with photo-related things lately.
After being temporarily banned from Instagram for sharing a few NSFW pics on her account (which is against their TOS), Rihanna was at the Clippers vs. OKC game last Friday night (May 9) in Los Angeles, and it just so happened that her seat was right beside president of the L.A. Police Commission, Steve Soboroff
Soboroff asked her to take a selfie with him, but he let Rihanna hold the phone herself, which he quickly found out was a big mistake on his part.
While taking the selfie, RiRi accidentally let dropped Soboroff's phone (BUTTERFINGERS!!!), which cracked his screen.
High bidder for my cracked screen @rihanna #selfie phone gets the prize. Proceeds to @lapdhq foundation pic.twitter.com/Lb3J8Svk9t

— Steve Soboroff (@SteveSoboroff) May 10, 2014
This photo of the pair went viral on Twitter and Rihanna later took to the popular social networking site to apologize for the mishap.
"Sorry I broke your phone," she tweeted.
Sorry I broke your phone @SteveSoboroff 🙂 @takepartlive 10PM ET on @pivot_tv @LAPoliceFdtn #specialannouncement #tonight

— Rihanna (@rihanna) May 13, 2014
More via The Boombox:
Soboroff thought the photo would help boost morale after the LAPD lost five police officers within the last two months — four in collisions and one of a heart attack. The veteran officer took it a step further and came up with a plan to auction off the cracked phone with the Rihanna selfie included.

When the commission president bumped into Rihanna again at the Clippers game last Sunday (May 11), he explained to the R&B diva his idea to sell the phone on eBay.

Graciously, Rihanna autographed the phone with "Sorry! I (heart) LAPD. Rihanna." In addition, she also donated $25,000 to help underprivileged students become police cadets and families of fallen officers.

Currently, the autographed cracked phone is up for sale on eBay. As of Wednesday (May 14), the bidding is over $13,000. The auction will close on May 15 at 1PM PST.
The auction is now closed, and the highest bidder put up $66,500 for the phone … so in all, Rihanna helped raise at least $91,500 for charity.
Kudos for Rihanna for turning a clumsy selfie accident into a $91.5K payday for charity!
h/t: The Boombox, HuffPo
Be the first to receive breaking news alerts and more stories like this by subscribing to our mailing list.