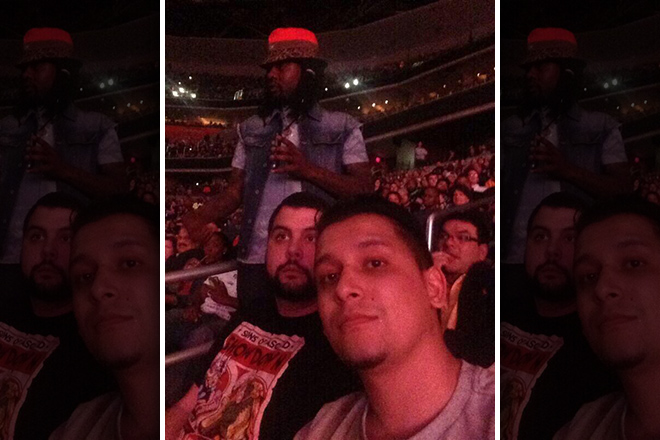 People really, really, really (REALLY REALLY REALLY) hate Wale!
At a WWE event Monday night (Mar 31) in D.C., the MayBach Music rapper got into a shoving match with another attendee at the show.
According to Necole Bitchie, the whole incident went down when a heckler taunted Wale on Twitter:
@Chefboyrnach: Did wale just walk by me!? Nahhh b he better come collect this fade

@Chefboyrnach: You at Monday night raw f-ckboy? Come see me in the ring and catch this stunner @wale

@Chefboyrnach: They shoulda put that b-tch in the nose bleeds where his talentless ass belongs

@Chefboyrnach: I gotta rock bottom wale for all my Coli breh who hate him as well.
@Chefboyrnach ight wya

— Wale Folarin (@Wale) April 1, 2014
Wale responded asking the heckler, 26-year-old Virginia native Joseph Stefanacci, his whereabouts and ended up finding the guy who was seated only a few rows away from him.
That's when the two finally met up and put hands on each other before security broke them up and escorted them both to the hallway.
TMZ reported that Wale had punched Stefanacci, but this video of the fight posted to WorldStarHipHop shows nothing more than a shoving match:
Journalist Jawn Murray, who was present when the incident went down, says the fight wasn't a full-out brawl and wasn't really that big of a deal.
"There was a verbal altercation and there was shoving. It wasn't a full on Mike Tyson boxing ring brawl," Murray said.
Wale later spoke with MTV News and explained what exactly went down.
"It was just a dude that was like, 'I'mma kick your ass. I better not see you here.'

"I was like, 'Yo, is this you?' And one thing lead to another, and I just kind of mushed him a little bit. Honestly, if there wasn't kids right there, it would have went a little bit differently, but I just wanted to be conscious of them. It's not to say it was the right decision. But in the moment, you know.

"People get it misconstrued. Like, 'Oh, you're so butt-hurt.' It's not even that. I come from a place where when we was at the lunch table and n—as was jonesing on each other, I'll respond. I'm gonna have something better, too. And now we've come to a place where, if you respond, you're a bitch. Somebody could say 'F— you' 100 times, if I say 'f— you' back, then I'm a bitch. And people be like, 'You're famous, you shouldn't care.'"
Whew … it must really suck to be Wale at times! Poor guy … y'all stop picking on that boy!
Be the first to receive breaking news alerts and more stories like this by subscribing to our mailing list.