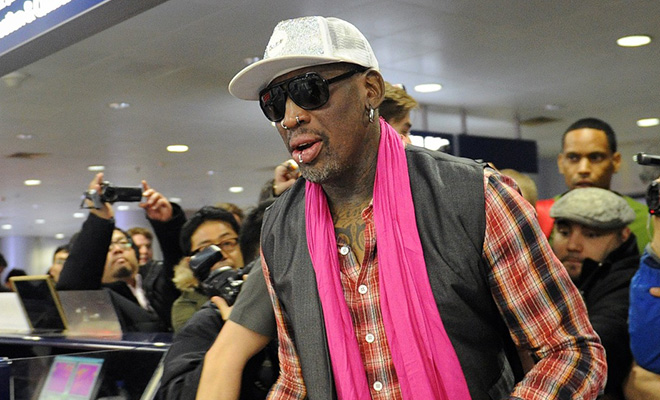 Dennis Rodman is finally getting the help he needs.
The former NBA star, who just returned home to the U.S. following a controversial trip to North Korea, has reportedly checked into an undisclosed alcohol rehabilitation center to treat his longtime struggle with alcohol addiction
Rodman's agent Darren Prince said in a statement that the 52-year-old drank heavily during his visit to North Korea, where he and a number of former NBA players helped celebrate the country's leader Kim Jong-Un's 31st birthday.
"Dennis Rodman came back from North Korea in pretty rough shape emotionally," Prince's statement read. "The pressure that was put on him to be a combination 'super human' political figure and 'fixer' got the better of him. He is embarrassed, saddened and remorseful for the anger and hurt his words have caused."
Prince added, "His drinking escalated to a level that none of us had seen before."
Dennis Rodman — who has been in an out of rehab for years — has been receiving a ton of backlash lately for his many trips to North Korea and his insensitive comments regarding detained American missionary Kenneth Bae.
We hate to say it but we don't feel sorry for this guy one bit … we just hope he gets his act together and leaves this North Korea BS alone.
Be the first to receive breaking news alerts and more stories like this by subscribing to our mailing list.