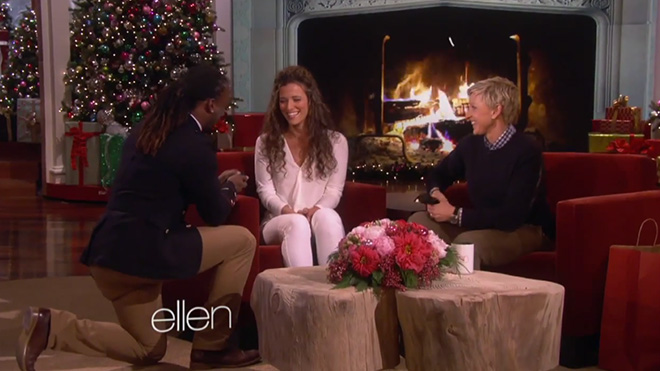 "The Ellen DeGeneres Show" just isn't for premiering new Kanye videos. Apparently, it's a good place to propose to your girlfriend too!
On Wednesday's episode of "Ellen," MLB baseball player Andrew McCutchen surprised his girlfriend Maria Hanslovan by dropping down on one knee and popping the question in front of Ellen's live studio audience, and later, her viewers at home, once it aired on TV.
Before asking Maria to take his hand in marriage, the Pittsburgh Pirates centerfielder said to her:
"I always envisioned that I would be on the highest mountain in the world and that my voice would be as loud as a lion's roar — times a billion — so the whole world could hear me, just to tell you how much that I love you … I didn't do any of this for the publicity, I didn't do any of this for the recognition. I did this to show you that if I could tell the whole world how much I love you, I would do that."
She said "Yes!" of course, and after some hugging and staring at each other, Ellen presented the newly engaged couple with some gifts: a bouquet of roses for Hanslovan and a black top hat for McCutchen with the Pirates' gold "P" on the front and "Mr. 22" on the back.
WATCH THE PROPOSAL ABOVE
Be the first to receive breaking news alerts and more stories like this by subscribing to our mailing list.